US singer Beyoncé  performed during a lavish festivities at the latest extravagant Indian celebrity wedding.
Isha Ambani, the daughter of India's richest man, Mukesh Ambani, managing director of Reliance Industries, has a personal fortune of around $47bn (£37bn). The company has its footprints in oil and gas, petrochemicals, telecom, retail and media.
Isha is tying the knot with Anand Piramal, son of another Indian billionaire, this week.
Beyoncé was one of many celebrities flown in, along with Bollywood stars and guests like Hillary Clinton.
The wedding comes on the heels of Indian weddings competing for glamour, excess and attention.
#Beyonce showing us exactly why she is the true queen! #AmbaniWedding pic.twitter.com/VydmE4sDui

— Filmfare (@filmfare) December 10, 2018
Beyoncé took to the stage on Sunday night for the sangeet, an evening of music and dance that typically happens just before the wedding.
She shared photos on her Instagram account of her jewel-studded outfit and elaborate gold jewellery.
The wedding is likely to be India's richest and most glamorous weddings, with other guests including media giant Arianna Huffington, cricketer Sachin Tendulkar and steel tycoon Lakshmi Mittal.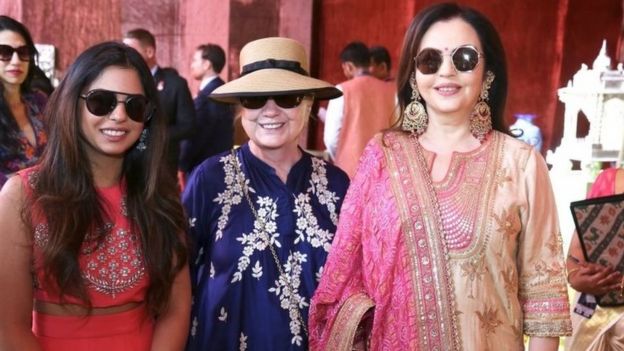 .@priyankachopra shakes a leg on Desi Girl at #IshaAmbani and #AnandPiramal's pre-wedding bash. pic.twitter.com/U5nFS0pQHp

— Filmfare (@filmfare) December 10, 2018
.@deepikapadukone does the chogada at #IshaAmbani's pre-wedding bash. pic.twitter.com/0g5NGQLt0h

— Filmfare (@filmfare) December 10, 2018
Beyonce to perform at Ambani's wedding??🙄
Please use very border-crossing loud speakers. It's the closest I'll ever get to her😔

— Shizza (@Shizza_hashmi) December 9, 2018
Beyoncé is in INDIA and I won't be able to see her perform. Earlier I was crying about my exams but now I got bigger problems

— Bhish (@abhxshree) December 9, 2018
Beyoncé wouldn't do a show in India, but would come here to perform at a wedding?! WHY BEYONCE!! pic.twitter.com/n3BXKxY0TX

— adi 💔 (@adeleoutdid) December 9, 2018
QUEEN BEY IS IN INDIA! And we will never have a chance to see her live cause she is performing at the Ambani wedding. My heart is broken. Kindly respect my need for privacy. #beyonce pic.twitter.com/Ryrp3ihyyO

— Aishwarya S (@Hyper_aice) December 9, 2018
Ajay Piramal, the father of the groom, Anand, is the head of the Piramal family, estimated worth $5.4bn.
The Ambani family lives in a 27-storey home in Mumbai city named Antilia. It is world's most expensive home, approximately $1bn spent in building it, boasting features such as multi-level gardens and three helipads.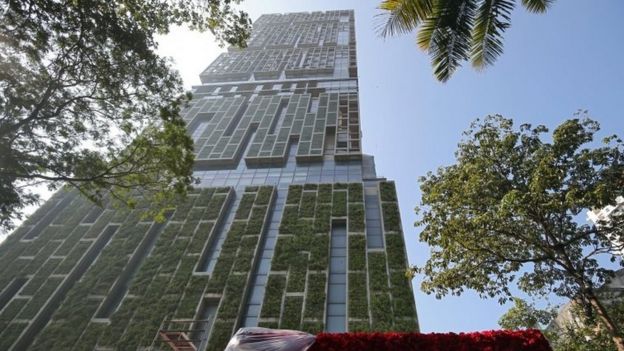 Photo credit- BBC.com