Sydney- With their fifth prime minister since 2013, Scott Morrison maybe did forgive Angela Merkle for doing her homework with she had to meet him.
The duo sat together in their first meeting at the G20 summit, camera's captured the moment Merkel reading what looked like a brief note on Morrison. It also showed his picture.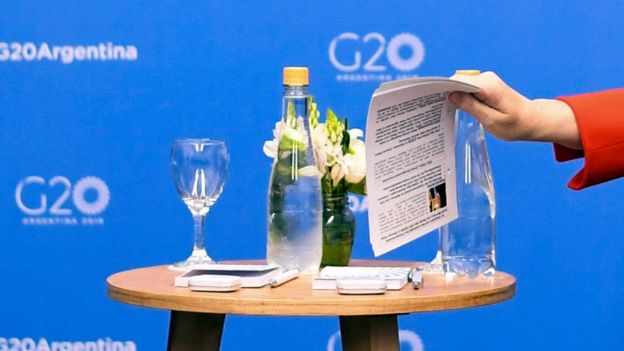 Australian government said the incident was not embarrassing for either nation.
"Angela Merkel's department, no doubt… was simply ensuring that the chancellor was properly briefed," Australian Trade Minister Simon Birmingham said on Monday.
So Angela Merkel needed a cheat sheet when meeting Australian PM Scott Morrison. I don't blame her. I live here and still know nothing about him #auspol #G20

— Rhiannon Hoffman (@whereisrhee) December 2, 2018
"Who is this? Australians can probably relate to Angela Merkel's predicament," read a headline in The Sydney Morning Herald.
Since 2013, Australia has had six prime ministers (excluding Kevin Rudd's second stint) since Mrs Merkel became Germany's leader in 2005. She at least me with five of them.
Morrison became prime minister in August after previous prime minister Malcolm Turnbull, was forced out by party rivals.
Photo credit-BBC.com