California police have arrested a former police officer for a notorious spree of murders, rapes and burglaries in the 1970s and 80s.
Sacramento police say they arrested suspect Joseph James DeAngelo, 72.
The suspect has been living in the Sacramento area and was identified after new efforts to solve the case, investigators say.
Police blame the so-called Golden State Killer for 12 murders, 51 rapes and more than 120 burglaries.
Mr DeAngelo is being held on suspicion of four counts of murder – the 1978 deaths of Brian and Katie Maggiore in Sacramento and the 1980 killings of Charlene and Lyman Smith in Ventura County.
Prosecutors say additional charges are likely to follow.
What did police say?
Police had been monitoring the suspect and used "discarded DNA" to match him to the crimes, according to Sacramento County Sheriff Scott Jones.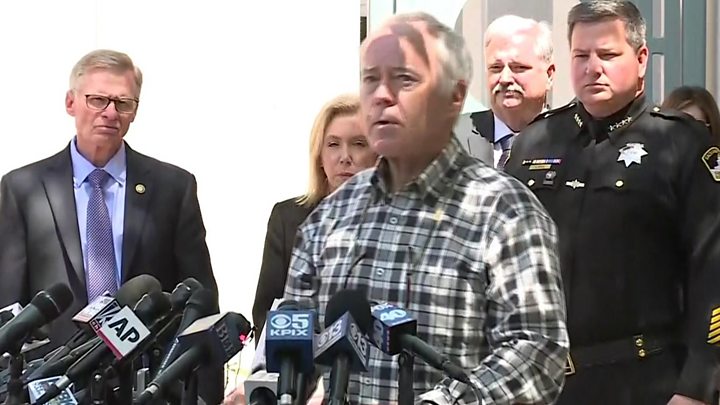 Announcing the arrest, Sacramento District Attorney Anne Marie Schubert said: "The answer has always been in Sacramento."
"The magnitude of this case demanded that it be solved," she added.
Ventura County District Attorney Greg Totten said that prosecutors intend to seek the death penalty.
Two years ago the FBI offered a $50,000 (£36,000) reward to anyone who could help crack the case.

Crime spree that terrorised communities
By James Cook, BBC News Los Angeles correspondent
After four decades of frustration for detectives, it turned out the suspect had been living under their noses all along.
"We found the needle in the haystack and it was right here in Sacramento," said district attorney Anne Marie Schubert.
Joseph James DeAngelo had apparently been living an ordinary life on a quiet suburban street, a former police officer with grown-up children who was "very surprised" when he was arrested and taken into custody.
Details of his alleged crimes are deeply disturbing and collective psychological scars endure.
Many police officers and prosecutors involved in the case vividly recall the terror of the crime spree in their communities.
"Everyone was afraid," said FBI special agent Marcus Knutson, who was born and raised in Sacramento, as he announced a fresh appeal for information on the case two years ago.
"We had people sleeping with shotguns, we had people purchasing dogs. People were concerned, and they had a right to be. This guy was terrorising the community. He did horrible things."

What do we know about the accused?
According to the Sacramento Bee newspaper, he had been living with his daughter and granddaughter in the city's Citrus Heights neighbourhood.
He was fired from the Auburn Police Department in 1979 after he was charged with shoplifting, according to the Auburn Journal.
Police say it was "very likely" that he was committing these crimes while employed as a police officer.
He had also worked as an officer in Exeter, California from 1973 to 1976, during a time when several crimes were committed there, police say.
What reaction has there been?
Jane Carson-Sandler, who was the rapist's fifth victim in October 1976, told the Island Packet newspaper that detectives had emailed her on Wednesdayto inform her of the arrest.
"I just found out this morning," she said. "I'm overwhelmed with joy. I've been crying, sobbing."
The case was investigated by author Michelle McNamara for her book I'll Be Gone in the Dark. McNamara died before the book could be published.
Her co-author, Billy Jensen, tweeted on Tuesday night to say there would be a "rather large announcement tomorrow".
Another contributor to the book, Paul Haynes, said: "Stunned. Excited. No other words right now."
What were the crimes?
The Golden State Killer, also known as the East Area Rapist, Original Night Stalker, and the Diamond Knot Killer is believed to have carried out rapes and murders between 1976 and 1986, killing girls and women aged between 12 and 41.
Prosecutors say the "reign of terror" began in Sacramento and spread to San Francisco and then on to central and southern California. Links between the cases were established by DNA evidence, police say.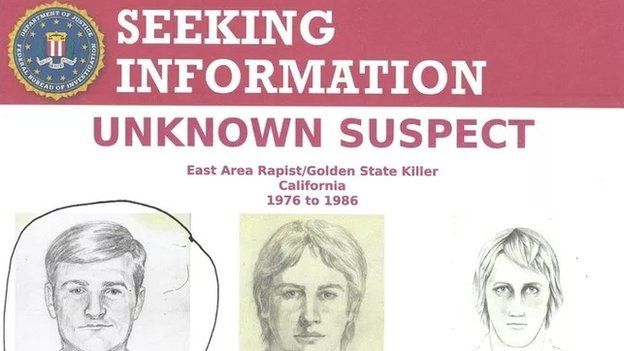 The attacker broke into homes at night and then tied up and raped his female victims.
Before fleeing he stole items such as cash, jewellery and identification.
The last case to be linked to the Golden State Killer was the rape and murder of an 18-year-old woman in Irvine, Orange County, in May 1986.
Orange County District Attorney Tony Rackauckas said the suspect had been called many names but added: "Today, it's our pleasure to call him 'defendant'."
Article Sourced from BBC.com
Video Credit- YouTube/Washington Post
Photo Credit- ABC Action News