WASHINGTON-  A man who committed a brutal robbery as a teenager in Missouri, firing a gun at two people, will be in prison until he dies. Is that fair?
Bobby Bostic wakes up at 4.45am, every day.
He washes his face, brushes his teeth, goes for breakfast around 5.30. He comes back, watches TV – usually CNN – prays, then starts reading.
The prison is violent. It was worse 20 years ago, but trouble still finds you. So Bostic keeps his head down: New York Times, St Louis Post-Dispatch, Entrepreneur magazine.
He loves autobiographies – if it's not in the library, his family can order it – but he reads anything. His last book was The Innovators by Walter Isaacson.
Bostic keeps the TV on silent, with the subtitles on. If there's breaking news, he turns up the volume. If not, he keeps reading.
After meals and outdoors time – 12 hours a week – he goes to bed at 10pm. The next day, he wakes up, washes his face, brushes his teeth, goes for breakfast.
Bostic was 16 when he committed the 17 crimes for which he was given consecutive sentences. Unless the court changes its mind, he will be in prison until January 2091, at least.
He is 39 now. By then, he will be 112.
Bobby Bostic is from St Louis, Missouri, in the American Midwest. He was one of four; his older brother and sister had a different dad. Growing up, his father wasn't around.
"We didn't have many male role models," he says from prison in Jefferson City. "I was free to roam the streets."
Bostic's family was poor. He didn't play in sports teams because they couldn't afford the uniforms. Instead, he played American football on concrete. "No helmets," he says.
Aged 10, he started smoking and drinking. He was on cannabis aged 12 and was smoking PCP – another illegal drug – aged 13. At the same time, he would steal cars, or ride in stolen ones.
"It was a status symbol," he says. "That was our idea of wealth – a car that wasn't even ours."
It was a Tuesday in December 1995 that changed his life. Bostic, 16, was at a friend-of-a-friend's house in another part of town; smoking weed, drinking gin, smoking PCP. Then a female friend went outside.
"She got talking to a dude from the neighbourhood," he says. "He smacked her. She told him she would get us. He told her to go get us."
Bostic and his friends went to confront the man. "And that's why I had the gun," he says.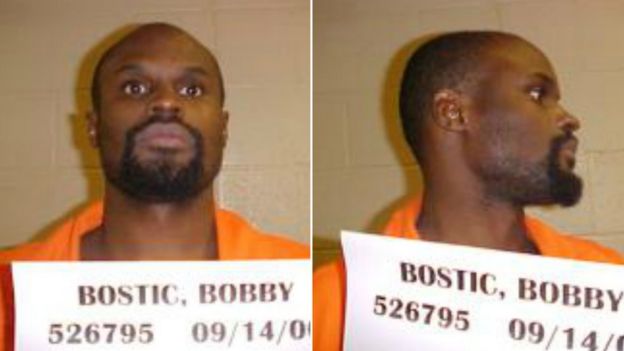 Photo Credit- BBC.com/ Bobby Bostic in 2006
The argument was resolved without a shot being fired. Bostic and his friend, Donald Hutson, went to smoke more weed.
"As we did that, we saw the victims," says Bostic. "We knew they weren't from that neighbourhood. They had a lot of stuff on their truck."
The victims were giving presents to a needy family, as part of a newspaper appeal. They had two car-loads and a truck. One of the presents was a Christmas tree; another was an old couch.
"It wasn't a plan," says Bostic. "We saw them. I looked at him [Hutson]; he looked at me, a knowing look. It was just an instant thing. We pulled the guns out."
Bostic and Hutson approached the first victim as she took the couch cushions out of her car. They put a gun to her head. When she ran, they chased her.
Her boyfriend – who had been on the phone – shouted at them, so Bostic and Hutson chased after him instead. They demanded his money, punched him, and shot at the ground.
When the boyfriend didn't hand over the money, Bostic shot him. Why?
"I can't make excuses," he says. "I didn't even know what I was doing. I wasn't trying to kill the dude, or hit him. I can't make excuses for it. I shouldn't have done it, and I regret it."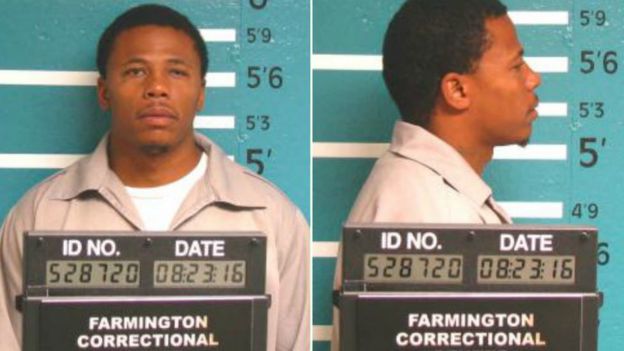 Photo Credit- BBC.com/ Donald Hutson in 2016. According to the Missouri Department of Corrections website, his nicknames include "AK-D" and "Suicide"
The bullet grazed the boyfriend. After it did, he handed over $500. But Bostic and Hutson weren't done.
They grabbed a woman – who was part of the present-giving group – and stole her leather jacket. They demanded money from a man who was with her; when he threw down his wallet, they shot at him. The bullet missed. But they still weren't done.
After fleeing, Bostic and Hutson went to a girl's house. She said they couldn't stay. "So we stepped out of the house, went right round the corner," says Bostic. And that's when they found another victim.
The woman was taking packages from her car. Bostic and Hutson put a gun to her head, took her car keys, forced her into the back, and drove off.
They told her to take her off her coat and earrings; she handed over her purse. Hutson put his hand down her trousers and boots, to make sure there wasn't more money. He also touched her breasts.
After arguing between themselves, Bostic and Hutson drove off, leaving the woman in an alley. They were arrested an hour later.
"I didn't realise the seriousness of it until I was arrested – who those people were, and what they were doing," he says. "That's when the remorse came."
At the same time, their first victims gave out the Christmas presents, as planned. The needy family was a man bringing up three children.
Four months after being arrested, Bostic was offered a deal: plead guilty and take a life sentence – 30 years – with the chance of parole. He turned it down.
Eight months later, he was offered a "mercy of the court" deal: plead guilty and take what the judge decides. Again, he turned it down. Why?
"I was advised by people – my father, my step-father. He was in prison – I wrote him and he said don't ever take a blind plea, because you never know what's going to happen.
"I knew I was guilty of the case, but I always thought I had a better chance with the jury. As a 17-year-old, I still wasn't thinking clearly. But at the time, that's what I was thinking."
Bostic went on trial and was found guilty of 17 counts, including eight counts of armed criminal action, and three counts of robbery. Before his sentencing in 1997, his lawyer suggested writing to the judge, so he did, four times.
Each letter made his situation worse.
"Looking back, I didn't show enough remorse," says Bostic, who last read the letters two or three years ago.
"If I read those letters now, they sound like a 17-year-old who doesn't know the gravity of what he's facing. I used them to complain about the trial, and what was going on, instead of taking responsibility.
"That was the wrong thing to do – but no one ever told me [differently]."
Bostic's mother, Diane, also wrote a letter to the judge, who said it was "one of the most beautiful letters I have ever received from a parent". But it wasn't enough to save him.
Addressing Bostic in court, Judge Evelyn Baker told him: "You write me these letters how brilliant you are, how intelligent you are, how you are smarter than everybody else in the world.
"You are the biggest fool who has ever stood in front of this court. You have expressed no remorse. You feel sorry for Bobby."
The judge ordered Bostic's sentences to run consecutively, rather than concurrently. The total was 241 years.
"You made your choice, and you're gonna die with your choice," said Judge Baker. "Because Bobby Bostic – you will die in the Department of Corrections."
Bostic's accomplice, Donald Hutson, took the mercy of the court deal. Judge Baker gave him 30 years.
Article sourced from BBC.com- To read more click on this link- http://www.bbc.com/news/world-us-canada-43461521
Photo Credit- BBC.com