NEW YORK- Anthony Bourdain, a gifted storyteller and writer who took CNN viewers around the world, has died. He was 61.
CNN confirmed Bourdain's death on Friday and said the cause of death was suicide.
"It is with extraordinary sadness we can confirm the death of our friend and colleague, Anthony Bourdain," the network said in a statement Friday morning. "His love of great adventure, new friends, fine food and drink and the remarkable stories of the world made him a unique storyteller. His talents never ceased to amaze us and we will miss him very much. Our thoughts and prayers are with his daughter and family at this incredibly difficult time."
A friend of @StarTalkRadio. A friend of Food & Culture. A friend to us all. Anthony Bourdain, RIP. (1956-2018). pic.twitter.com/uVqEgldGsL

— Neil deGrasse Tyson (@neiltyson) June 8, 2018
Stunned and saddened by the loss of Anthony Bourdain. He brought the world into our homes and inspired so many people to explore cultures and cities through their food. Remember that help is a phone call away US:1-800-273-TALK UK: 116 123

— Gordon Ramsay (@GordonRamsay) June 8, 2018
The Smithsonian once called Anthony Bourdain "the original rock star" of the culinary world, "the Elvis of bad boy chefs."
In 1999 he wrote a New Yorker article, "Don't Eat Before Reading This," that became a best-selling book in 2000, "Kitchen Confidential: Adventures in the Culinary Underbelly."
The Smithsonian once called him "the original rock star" of the culinary world, "the Elvis of bad boy chefs."
First he hosted "A Cook's Tour" on the Food Network, then moved to "Anthony Bourdain: No Reservations" on the Travel Channel. "No Reservations" was a breakout hit, earning two Emmy Awards and more than a dozen nominations.
In 2013 both Bourdain and CNN took a risk by bringing him to the news network still best known for breaking news and headlines. Bourdain quickly became one of the principal faces of the network and one of the linchpins of the prime time schedule.
Season eleven of "Parts Unknown" premiered on CNN last month.
Look back: Bourdain's iconic dinner with Obama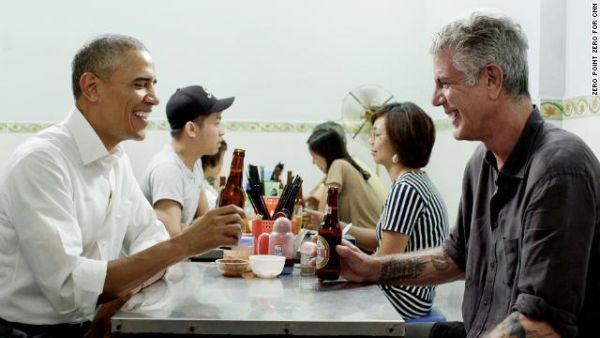 Anthony Bourdain dined with then-President Obama in Hanoi, Vietnam in 2016.
Over a dish of Bun Cha, Obama shared personal stories and reflected on his own international travels. 
Here's how Bourdain described the dinner:
I can tell you that Barack Obama was, in spite of having had a high-ranking leader of the Taliban whacked in Pakistan a few days previous, very relaxed and at ease. He seemed to enjoy himself sitting on a low plastic stool eating noodles and pork bits with chopsticks.I talked to him as a father, as an enthusiast for the region, and he responded with real nostalgia for the Indonesian and Hawaiian street food of his youth.He was funny, quick to laugh. When I asked him if he ever missed being able to go out to a bar, sit down by himself and have a cold beer while listening to old songs on the juke, he smiled and said "in about six months."He put my crew at ease. Was kind to them. So much so that we were not nervous while we were with him.
President Trump says Anthony Bourdain's death is "very sad." pic.twitter.com/XQjK3Aku3S

— Meg Wagner (@megwagner) June 8, 2018
Article sourced from CNN.com
Photo Credit- CNN.comand Daily Record