HARARE – Emmerson Mnangagwa has been sworn in as Zimbabwe's president today.
11am – Emmerson Mnangagwa (centre) arrives with his wife Auxilia at the National Sport Stadium in Harare, on 24 November 2017 for his inauguration as president of Zimbabwe. Picture:
HARARE – Emmerson Mnangagwa has been sworn in as Zimbabwe's president following former President Robert Mugabe's forced exit on Tuesday.
Mnangagwa arrived to loud cheers at the national sports stadium in Harare.
WATCH: Emmerson Mnangagwa inaugurated as Zimbabwe's president
The crowd also exploded into a resounding cheer as Botswana's
Sash and chain for new president
There is mass cheering from the crowds as the chief justice puts the green sash and chain of office on Emmerson Mnangagwa.
Watch the president taking his oath:
BREAKING" 
Mnangagwa becomes Zimbabwe's president
Emmerson Mnangagawa takes his oath of office:
"I Emmmerson Dambudzo Mnangagawa swear that as president of the Republic of Zimbabwe – I will be faithful to Zimbabwe and obey uphold and defend the constitution and all other laws of Zimbabwe and I will promote whatever that will advance and will oppose whatever will harm Zimbabwe that I will protect and promote the rights and people of Zimbabwe that I will discharge my duties will all my strength to the best of my strength and ability and to the dictates of my conscience and I will devote myself to the well being of Zimbabwe and its people so help me God."
Chief Justice Luke Malaba is now to administer the oath of office.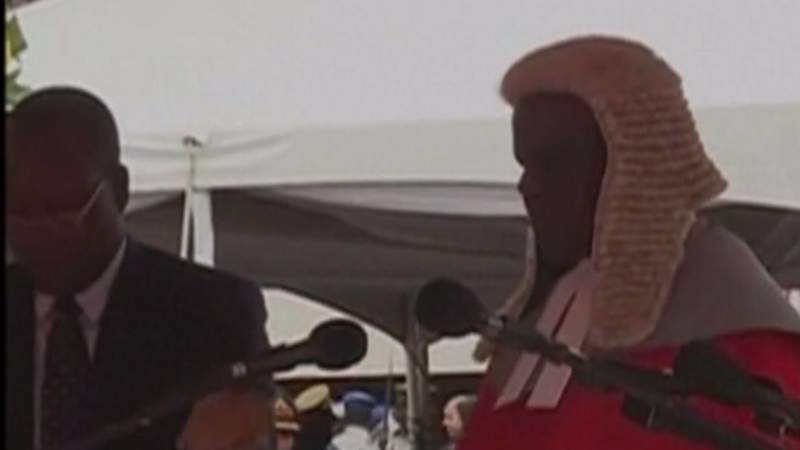 Emmanuel Mnangagwa stood up to meet him to cheers from the crowd.
Here are some of the most stunning stills coming in from the inauguration of Emmanual Mnangagwa as Zimbabwe's president: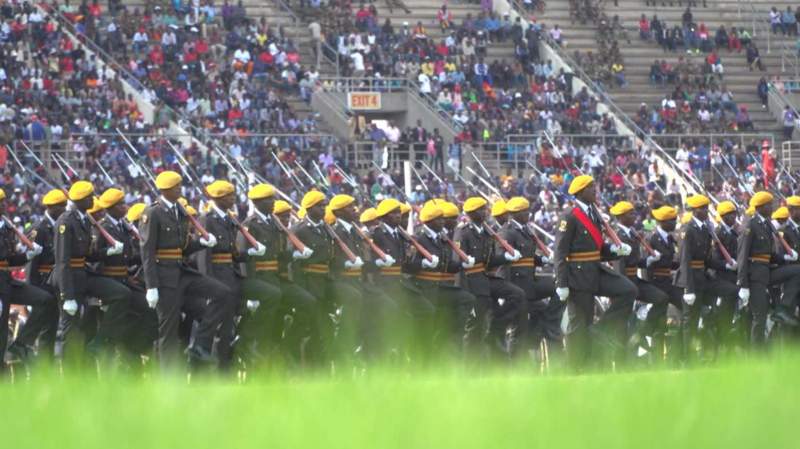 The stadium in the capital Harare can seat 60,000 people: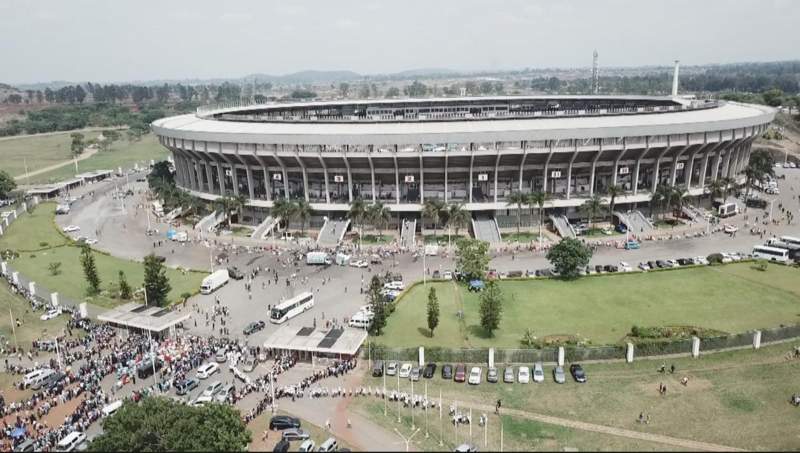 One fashionista payed tribute to the nickname for Zimbabwe's incoming leader Emmanuel Mnangagwa: "The crocodile".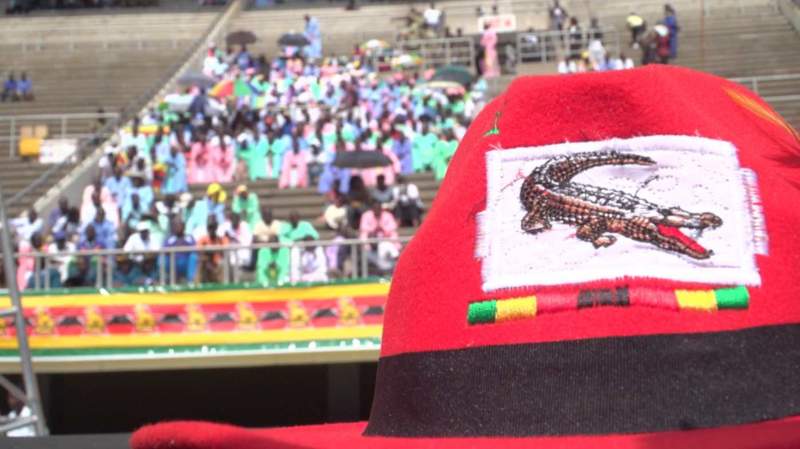 A member of the Christian Church Jowani Masowe Vadzidzi Vajesu got to the stadium early: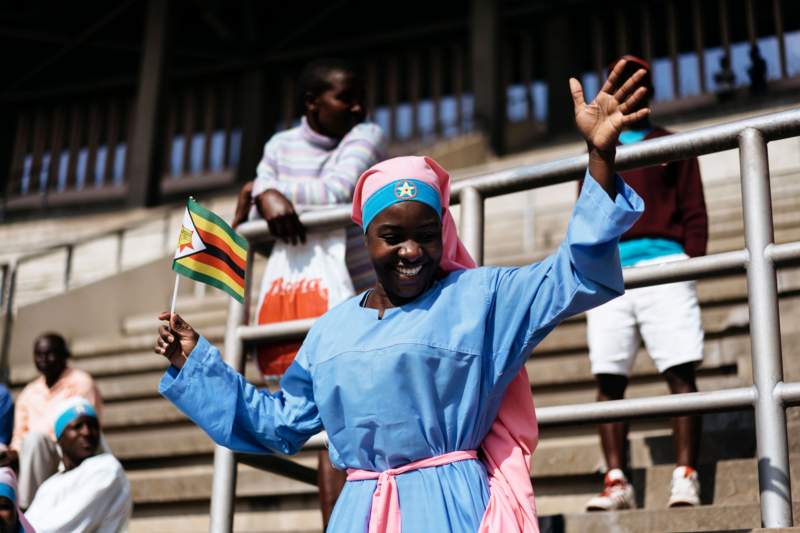 'You must represent all Zimbabweans'
Religion Minister Bishop Mutendi tells Zimbabwe's incoming president Emmerson Mnangagwa that it was not only Zanu-PF supporters who were out on the streets to welcome him home on Wednesday.
They came from all parties, all ethnic groups, all regions, he said.
That's why God chose you to succeed the icon of the liberation struggle."
'God at work in Zimbabwe'
Parliamentary speaker Jacob Mudenda has now taken over the microphone to begin official proceedings.
Silence is called for an opening prayer. Minister of Religion Bishop Mutendi says:
I stand very humbled and overjoyed to have witnesses God at work in Zimbabwe.
There was a time when we thought God had forgotten Zimbabwe."
Addressing Emmerson Mnangagwa, the bishop says the new president will save Zimbabwe be judge by what he does to his predecessors.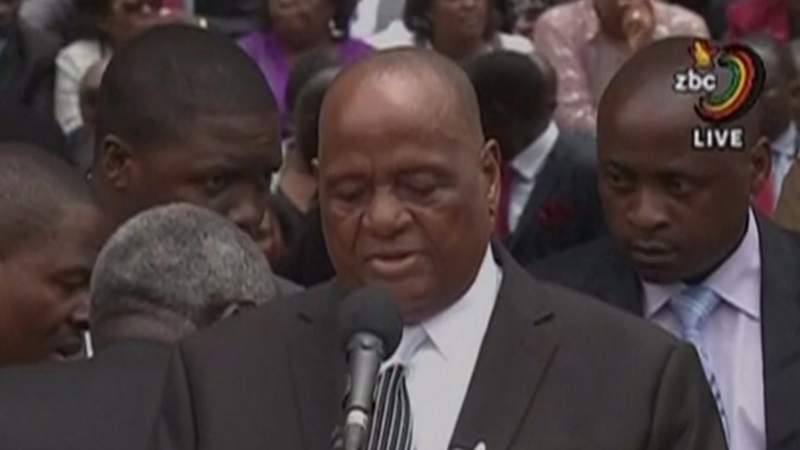 Army chief's wife 'dances to Jay Prayzah'
According to a Zimbabwean editor, the person state television focused on dancing in the crowd to Jay Prayzah's hit song Kutonga Kwaro (see earlier post: 'Sound of the revolution') was the wife of the army chief Gen Constantine Chewenga, the man behind the military's takeover:
The musician who inspired change
A BBC reporter is up close at the performance by Jah Prayzah.
The singer has the military's blessing to wear army fatigues – and our correspondent says he is seen as the musician who inspired this historic change in Zimbabwe:
Mugabe critic Ian Khama arrives
Botswana's leader Ian Khama, who has been a harsh critic of former President Robert Mugabe, has arrived.
He is pictured in the centre of this image: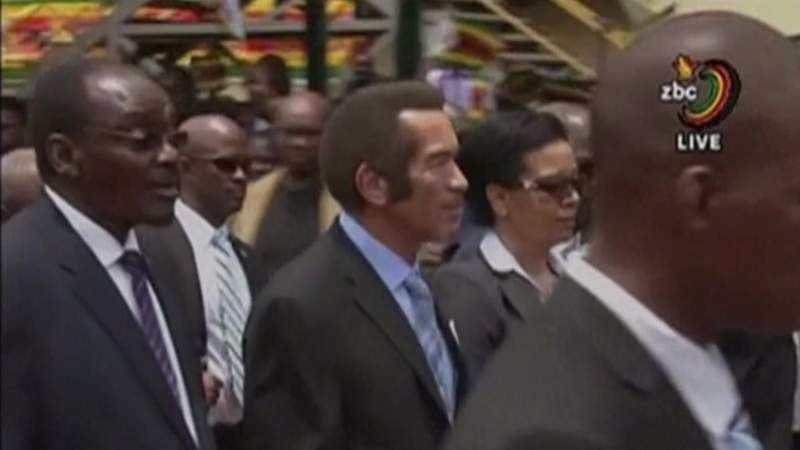 On Wednesday he told the BBC he had no sympathy for Mr Mugabe following his resignation after 37 years in power – and has said presidents shouldn't see themselves as monarchs.
Botwana, like other nations in southern Africa, hosts thousands of Zimbabweans who have fled their home for jobs and a better life.
Edgar Lungu is welcomed into the stadium
Foreign dignitaries have started arriving at the inauguration of Emmanuel Mnangagwa as Jay Prayzah continues to perform on stage.
Zambian President Edgar Lungu, pictured with his fist raised, has just entered the stadium to cheers from the crowd.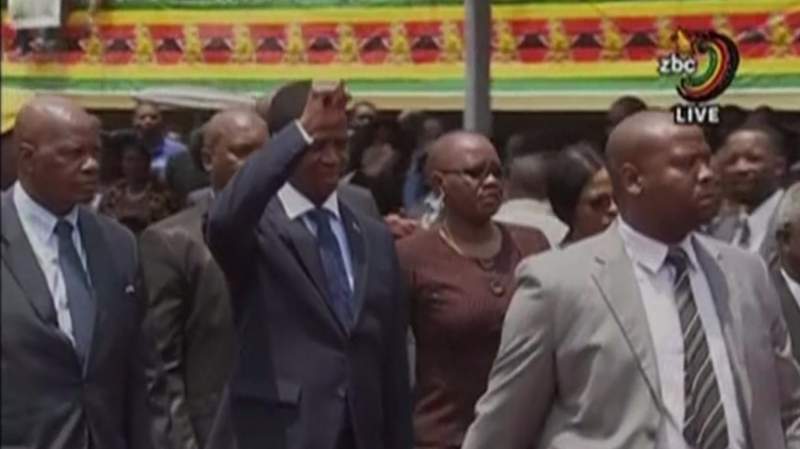 'Sound of the revolution' performs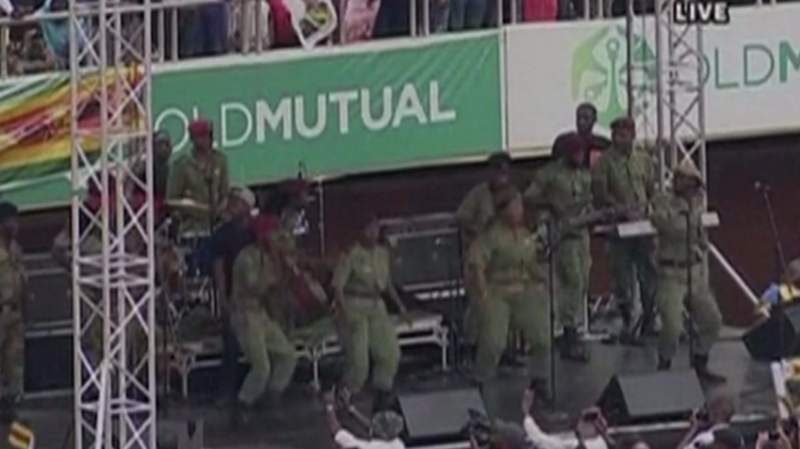 Award-winning Zimbabwean musician Jah Prayzah, who performs in army fatigues, is singing his hit Kutonga Kwaro, which means "to rule properly" to wild cheers from the crowd.
His music has become the soundtrack to Robert Mugabe's downfall.
On Sunday politicians sang along to the track after Mr Mugabe was sacked as Zanu-PF party leader.
People are dancing in the crowd.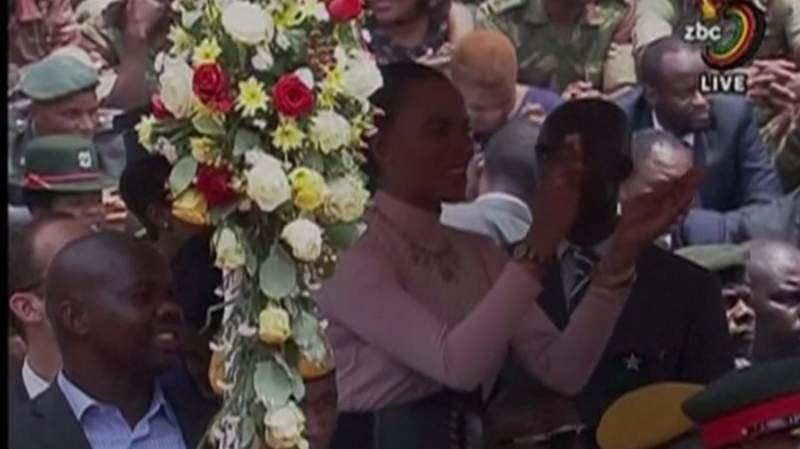 Mnangagwa – 'Zimbabwe's president-elect'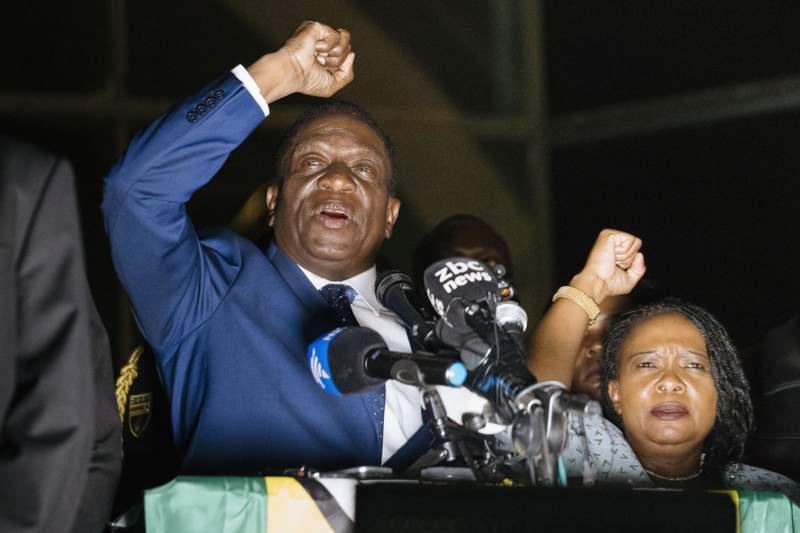 The master of ceremonies at the inauguration is referring to Emmerson Mnangagwa as Zimbabwe's president-elect.
He was nominated by the ruling Zanu-PF party's central committee on Sunday should the post of state presidency become vacant.
But he comes into office after a chaotic 10 days which saw an army takeover, mass demonstrations and the resignation of long-time ruler Robert Mugabe.
Opposition leaders in attendence
According to the news site @263Chat, opposition leaders Morgan Tsvangirai and Joice Mujuru are among the dignitaries who have arrived to see Emmerson Mnangagwa being sworn-in as Zimbabwe's new president.
It must poignant for them both – as they both have had their sights on the presidency.
Mr Tsvangirai beat Robert Mugabe in the first round of a presidential election in 2008, but withdrew after a campaign of violence by the ruling Zanu-PF party.
Mrs Mujuru was once Mr Mugabe's deputy, but was expelled from the party in a purge orchestrated by former First Lady Grace Mugabe.Emmerson Mnangagwa mobbed on arrival
Emmerson Mnangagwa, Zimbabwe's new president, has arrived at the stadium to huge cheers.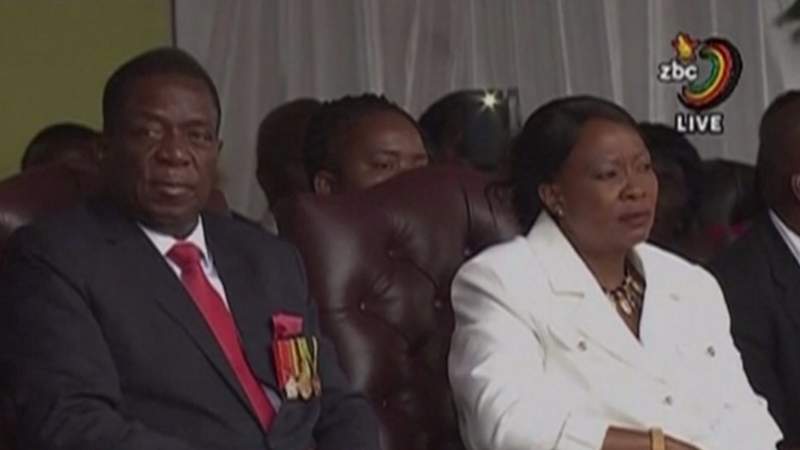 Mnangagwa promises Mugabe 'security'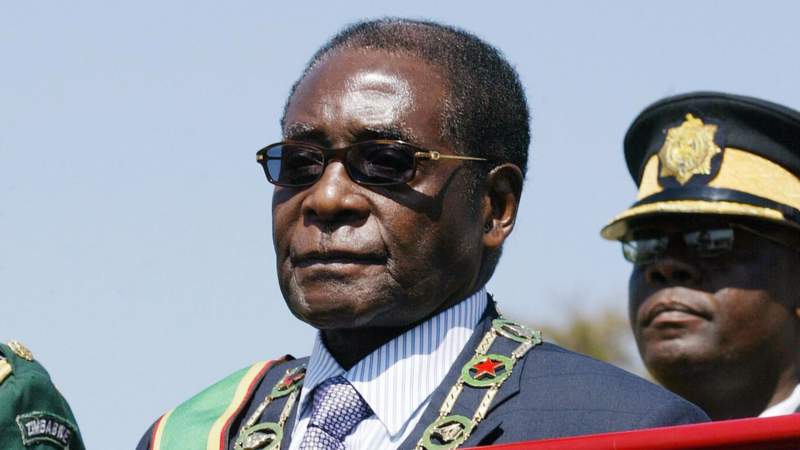 Incoming Zimbabwean President Emmerson Mnangagwa spoke to Robert Mugabe and promised him and his family "maximum security", reports Zimbabwe's state-run Herald newspaper.
It quotes the former president's spokesman George Charamba as saying that the two had agreed that Mr Mugabe "needed time to rest" given the "hectic events of the past week-and-a- half" so would not attend the inauguration.
"Hectic events" is one way of describing the situation, in which the army took control and Mr Mugabe resigned after 37 years in power.
Posted at10:31
Military chiefs arrive for swearing-in
Zimbabwe's state broadcaster says the heads of the security services have arrived at the stadium in the capital, Harare, for the ceremony.
Among them is Gen Constantine Chiwenga, the military chief behind the takeover, photographed here at the stadium: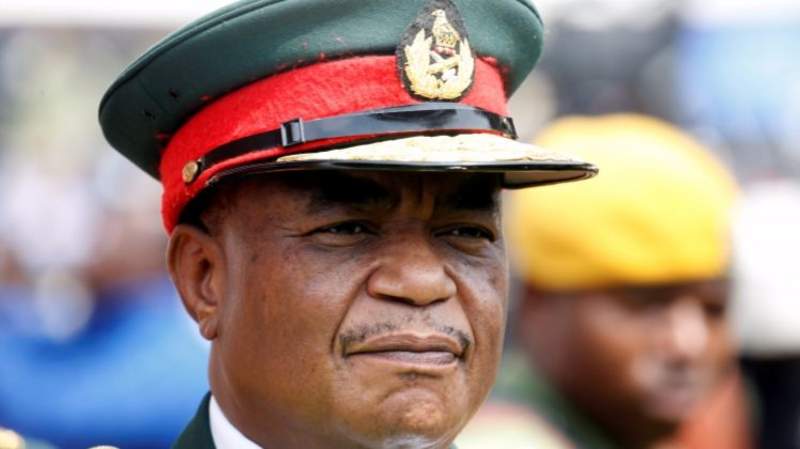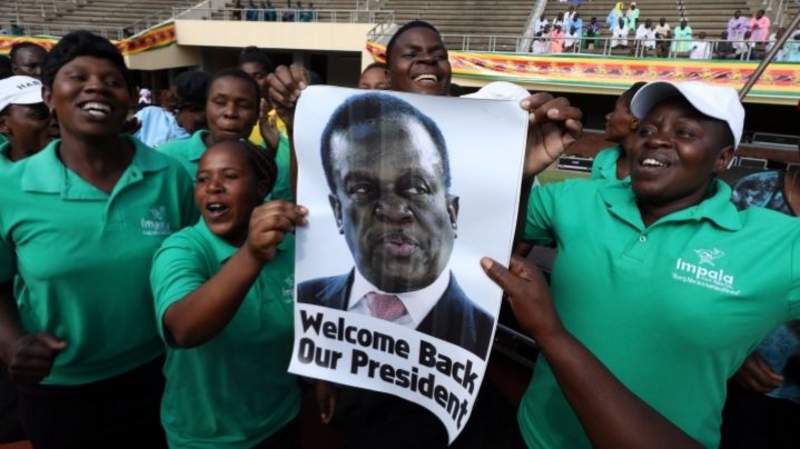 As well as marching bands there will be foreign dignitaries and an atmosphere of genuine celebration at the National Sports Stadium here in Harare.
But there will, it seems certain, be no Robert Mugabe.
The official explanation is that the 93-year-old needs to rest.
His absence is a stark reminder that this is no ordinary transition. That – despite his official resignation – he was forced out by the military.
President-to-be Emmerson Mnangagwa has called for reconciliation, and is seen by many Zimbabweans as a tough pragmatist who should be given a chance to pull the country out of its current economic crisis.
The governing Zanu-PF remains in control – emerging triumphant from 10 days of chaos.
But today many here will also know that, had the party not rigged elections and terrorised his own population, it would have lost power many years ago
Posted at10:10
Crocodile shoes for inauguration
Zimbabwe's incoming leader Emmerson Mnangagwa is known as "the crocodile" because of his political shrewdness.
It is a motif that has caught the fancy of the editor of Zimbabwe's state-run Herald paper, who has tweeted a photo of his footwear of choice for the swearing-in ceremony:
Mugabe's finance minister 'beaten'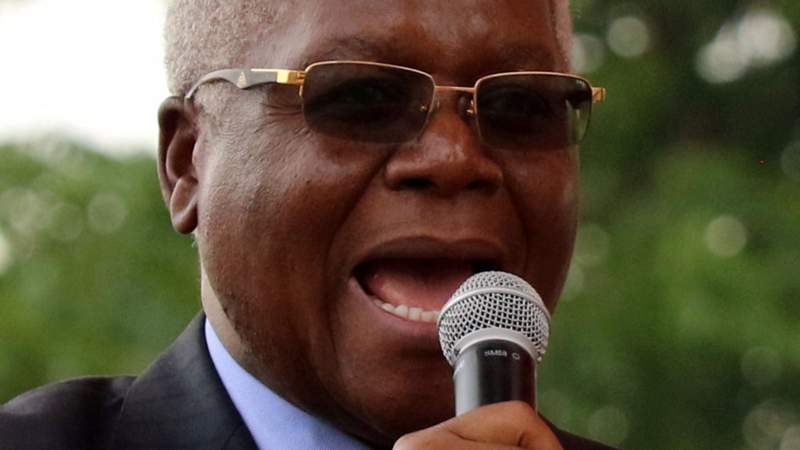 Robert Mugabe's finance minister has been admitted to hospital after beatings he received in military custody, his lawyer has told the Reuters news agency.
Ignatius Chombo was detained when the military took over last week in events that eventually led to Mr Mugabe resigning as president.
He has injuries to his hands, legs and back and was blindfolded throughout his week in custody, lawyer Lovemore Madhuku says.
The politician had been accused of corruption and abuse of power relating to his time as local government minister more than a decade ago, he said.
Posted at9:59
Soldiers marching at stadium

BBC Monitoring
The world through its media
Live footage of the inauguration is being carried by Zimbabwe's state television and is showing soldiers marching at the National Sports Stadium, as crowds beat drums and blow plastic trumpets.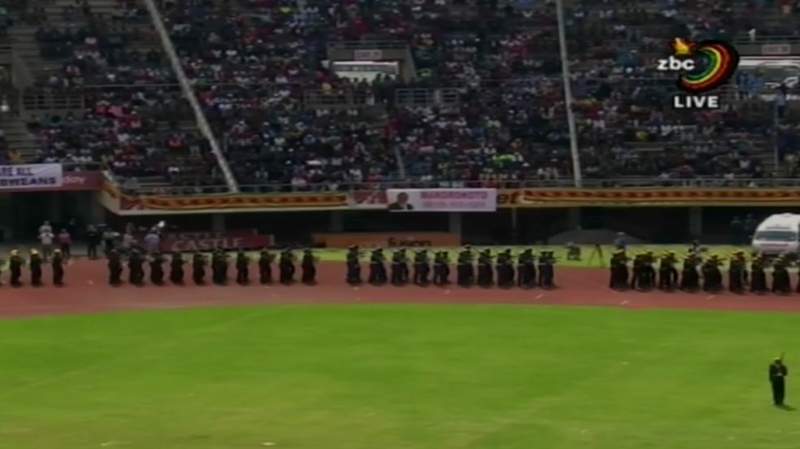 "Today is a significant day in the history of Zimbabwe," the presenter has said.
The government has deployed 125 buses to ferry people to the capital, Harare, for the ceremony.
A programme of the inauguration ceremony published by the state-run Herald newspaper confirmed that former President Robert Mugabe will not be attending the event.
Emmerson Mnangagwa is expected to speak at 12:10 local time (10:10 GMT).
Many regional leaders are not expected at the event.
Crowds gather for historic swearing-in
Welcome to BBC Africa Live for our live coverage of Zimbabwe's presidential swearing-in ceremony where Emmerson Mnangagwa will become the country's new president.
Thousands of people have begun to gather at a sports stadium in the capital, Harare, to see the inauguration later of the ruling Zanu-PF politician, nicknamed the "the crocodile" because of his political cunning.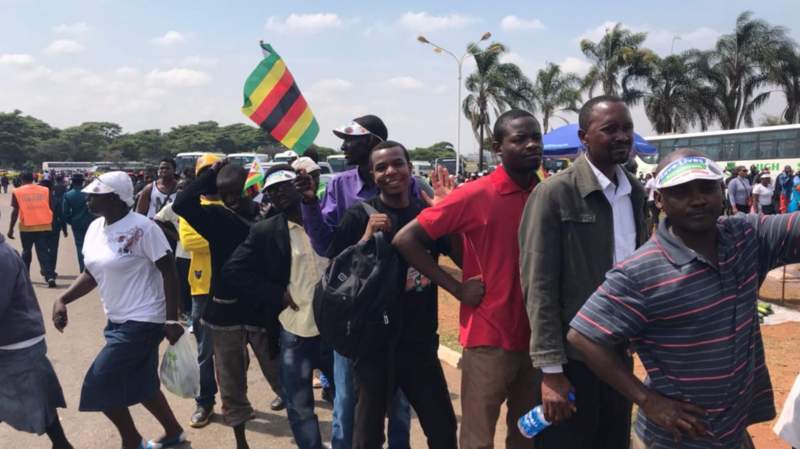 It comes after a historic week in country that saw the end of Robert Mugabe's 37-year rule.
He resigned as president after the army intervened and then the ruling Zanu-PF forced him to resign.
Excerpts from BBC NEWS online and EWN