WASHINGTON- Detailed notes of former FBI director James Comey documenting his conversations with US president Donald Trump have been published.
The memos detail Mr Trump's concerns of lurid intelligence dossier and also go into the president's relationship with the then National Security Advisor, Michael Flynn.
Mr Trump said the published memos cleared him of wrongdoing.
The documents were given to Congress on Thursday, the documents were requested by three republican committee Devin Nunes, Robert Goodlatte and Trey Gowdy, last week in the belief the memos will prove Trump innocence.
Trump Tweeted,
James Comey Memos just out and show clearly that there was NO COLLUSION and NO OBSTRUCTION. Also, he leaked classified information. WOW! Will the Witch Hunt continue?

— Donald J. Trump (@realDonaldTrump) April 20, 2018
The memos contain information the Comey alleged the Trump asked him to drop the Russian election probe, links between Mr Flynn and Russia. The memos are written after his meetings Mr Trump, where Trump apparently disclosed to have told Mr Comey that he had reservations about Mr Flynn, saying,  "The guy has serious judgment issues."
Mr Flynn resigned over charges that he had lied to the FBI about his contacts with Russia, he was forced to by the president.
Other conversations include how Trump was concerned over sexual allegations in an intelligence dossier, Comey said he was taking the allegations seriously.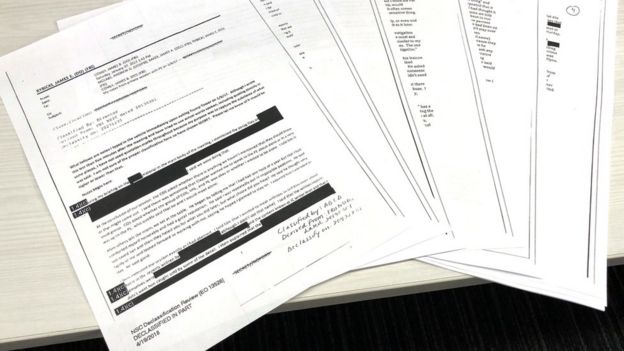 Photo Credit- BBC.com/ Mr Comey's memos include conversations the pair had had alone
Image Credit- CNN.com