LONDON- The latest developments has revealed that the YouTube music video for Despactio the song was hacked and removed on YouTube, which had over 5 billion views.
It was not the only video hacked, other artists such as Taylor Swift, Sharika, Selena Gomez and Drake were affected. All the video were originally posted by Vevo.
The Despactio the music video has been removed but the cover image shows a group wearing masks and pointing guns.
The hackers, calling themselves Prosox and Kuroi'sh, had written "Free Palestine" underneath the videos.
Many titles have been changed to include the names of the hackers, but only some feature the replaced cover image.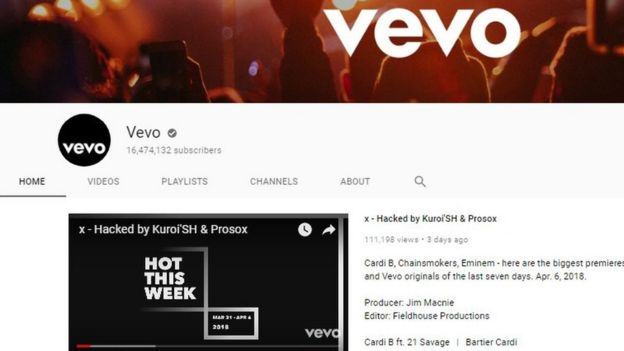 Photo Credit- BBC.com
Twitter account allegedly belonging to the hackers, they posted, "It's just for fun, I just use [the] script 'youtube-change-title-video' and I write 'hacked'."
"Don't judge me I love YouTube," it added.
Cyber-security expert Prof Alan Woodward, from Surrey University, said it was unlikely that the hacker was able to gain access so easily.
"To upload and alter video content with code you should require an authorisation token," he said.
"So, either this hacker has found a way around that need for authorisation, or they are being economical with the facts, or they obtained the permissions in some other way."
Photo Credit- BBC.com