TORONTO- A driver deliberately plowed his white Ryder rental van into a lunch-hour crowd in Toronto on Monday, killing 10 people and injuring 15 along a roughly 1.6-km stretch of sidewalk thronged with pedestrians, police said.
Prime minister Justin Trudeau called the incident "tragic and senseless attack", this attack is the most violent in recent history for the country.
Mark Sauders, Toronto Police Chief  said suspect Alex Minassin, 25, said the suspect had not been known by authorities.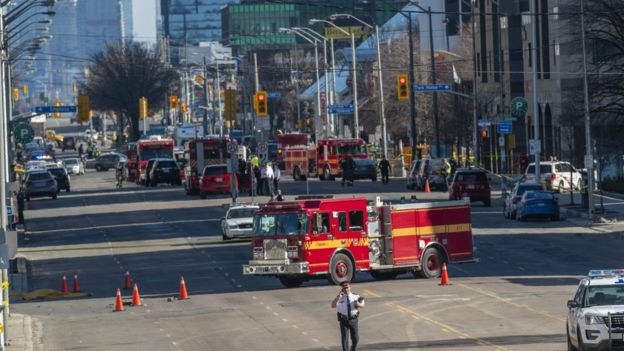 He told a late night conference that, "The actions definitely looked deliberate." The site of the incident in the northern section of Canada's biggest city, noting the van had been driven along sidewalk.
A former student, Ari Bluff, said Minassian did not seem to have many friends,
Speaking to CBC he said, "I remember seeing him probably just walking down the halls, usually by himself, or in the cafeteria by himself,"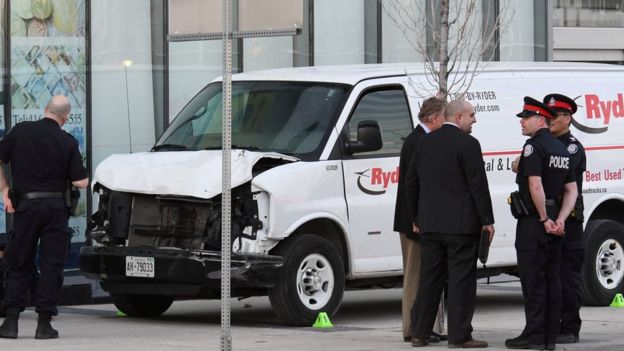 Ralph Goodale Federal Public Safety Minister who was with Saunders said, "There would appear to be no national security connections."
According to Canadian Broadcasting Corp, citing government officials, reported that Minassian was not associated with any organized militant group.
Trudeau said in statement, ""It was with great sadness that I heard about the tragic and senseless attack that took place in Toronto this afternoon,"
"We should all feel safe walking in our cities and communities."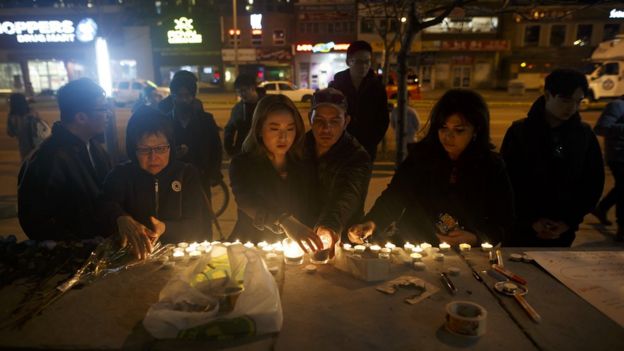 Candles and messages are being left at a makeshift memorial on Yonge Street
Photo Credit-BBC.com and 2EC