GERMANY- Researchers using digital technology analysed the writing on two pages of Anne Frank's diary that she had pasted over with brown masking paper, discovering four naughty jokes and a candid explanation of sex, contraception and prostitution.
Frank van Vree director of the Netherlands Institute for War, Holocaust and Genocide studies said, "Anyone who reads the passages that have now been discovered will be unable to suppress a smile,"
"The 'dirty' jokes are classics among growing children. They make it clear that Anne, with all her gifts, was above all also an ordinary girl."
Anne Frank, 13 at the time wrote two pages on September 28, 1942, just around three months after she and her family, another Jewish family were killed after they went into hiding from the Nazis in a secret annex behind a canal side house in Amsterdam.
Fearing pry eyes or no longer liking what she had wrote, she covered the jokes over with brown paper with an adhesive backing like a postage stamp, and the content remained a tantalising mystery for decades.
Researchers have now figured out what those two pages in which she attempted to cover the writings. It reveals four jokes about sex that Anne herself described as "dirty" and an explanation of women's sexual development, sex, contraception and prostitution.
On Tuesday Ronald Leopold, executive director of the Anne Frank House museum, said,"They bring us even closer to the girl and the writer Anne Frank."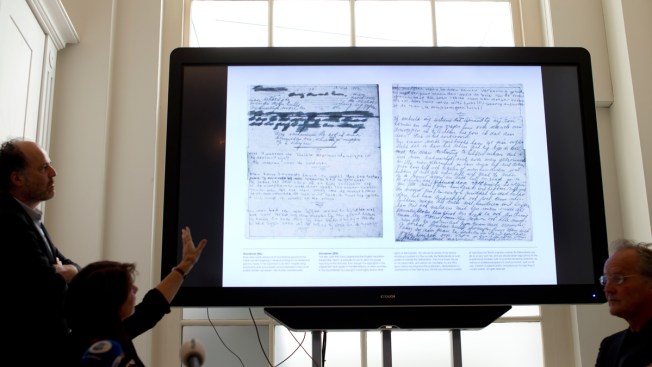 In the passage Anne explains how a young woman gets her period around age 14, saying that it is "a sign that she is ripe to have relat bions with a man but one doesn't do that of course before one is married".
She wrote about prositiution, saying, "All men, if they are normal, go with women, women like that accost them on the street and then they go together. In Paris they have big houses for that. Papa has been there."
She shares a joke, "Do you know why the German Wehrmacht girls are in Holland? As mattresses for the soldiers."
Also relating to this joke she joked, "A man had a very ugly wife and he didn't want to have relations with her. One evening he came home and then he saw his friend in bed with his wife, then the man said: 'He gets to and I have to!!!'"
Anne's father was the only survive during the WW11 after her fled and went into hiding for two years. Her father published her diary as a symbol of hope and resilience.
Photo Credit- The Times of Israel and ABC News