Miami- A 19 year old gunmen returned to his former high school, Florida High school by killing 17 people and injuring more than a dozen people. The attack was carried out by an assault rifle, where the student once was expelled for disciplinary problems, authorities student.
The incident took place, after chaos erupted as scenes of students running and screaming out the premises, with their hands in the air, a scene that is becoming all to familiar in America, as dozen of authorities and emergency services rushed to the scene.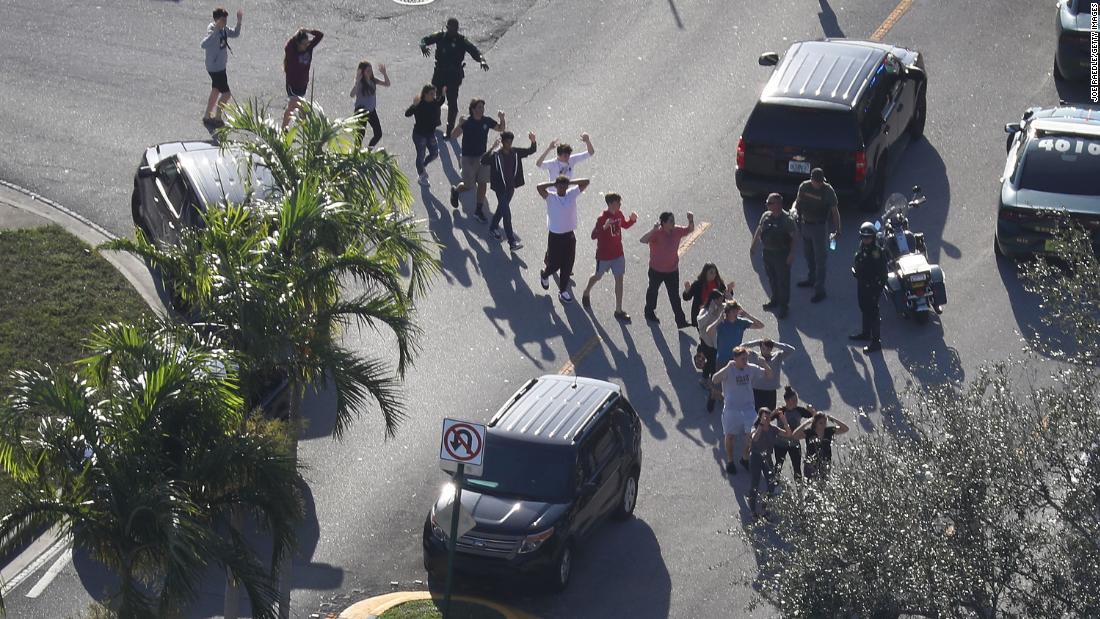 Photo Credit-CNN, Students being escorted out the building.
Two US senators from Florida explained that the gunmen wore a gas mask s he stalked into the school carrying a rifle, ammunition cartridges and smoke grenades, then pulled a fire alarm, prompting students and staff to pour from their classrooms into hallways rushing for any spot of safety.
"There the carnage began," Senator Bill Nelson told CNN.
A rapid series of loud gun fire were heard, as hysterical screaming and someone  people yelling, "Oh my God," according to CBS news.
The gunman has been identified as Nikolas Cruz, a former student Jillian Davis a recent graduated, recounted how Cruz was a student,"strange talking sometimes about knives and guns," adding, "no one ever took him seriously."He was an outsider, she told Reuters.
The video below shows how the police arresting the ex-student:
Video shows police takedown of suspect in South Florida school shooting that left at least 17 people dead. https://t.co/tdZphW185e pic.twitter.com/ApdWUr2Gqh

— ABC News (@ABC) February 15, 2018
This is the eight most deadly mass shooting in the US.
Photo Credit- People.com