The leaders of North and South Korea signed a declaration on Friday agreeing to work for the "complete denuclearisation of the Korean peninsula".
At their first summit in more than a decade, the two sides announced they would seek an agreement to establish "permanent" and "solid" peace on the peninsula.
The declaration included promises to pursue military arms reduction, cease "hostile acts," turn their fortified border into a "peace zone," and seek multilateral talks with other countries, such as the United States.
FIRST ACROSS THE LINE
Moon greeted Kim at the military demarcation line, making Kim the first North Korean leader to set foot in the South since the 1950-53 Korean War.
In an unplanned move, Kim invited Moon to step briefly across into North Korea, before the two leaders crossed back into South Korea holding hands.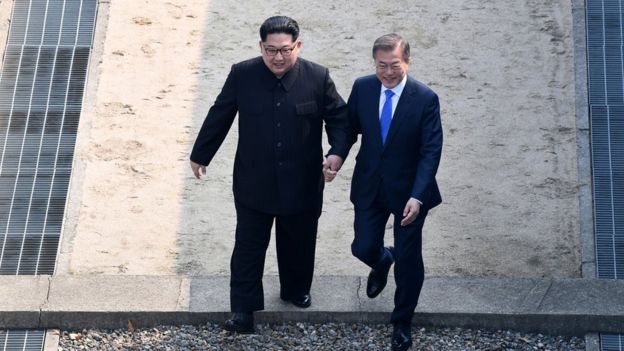 The two were handed flowers by a South Korean children, residents of a village situated in the demilitarised zone.
The pair were met on a red carpet by a South Korean honour guard in historical costumes and playing traditional music.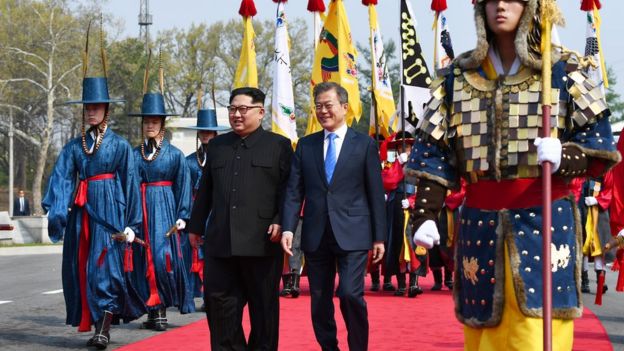 Kim wore glasses and his trademark black Mao suit, while the rest of the North Korean delegation appeared in military uniforms or Western attire.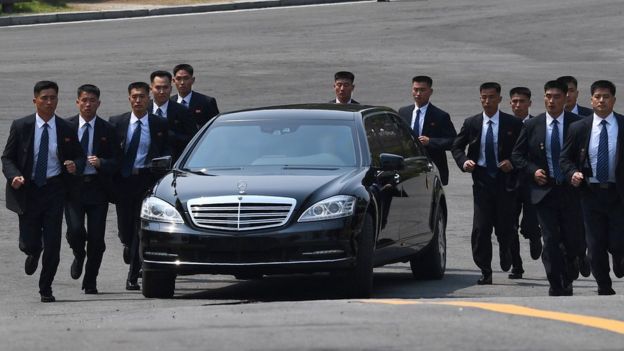 "A new history starts now. An age of peace, from the starting point of history," Kim wrote in Korean in a guest book in the South's Peace House before talks began.
"I hope we will be able to talk frankly and come to an agreement to give a big present for the Koreans and the people around the world who wish for peace," Moon said as the two began their official talks.
Minutes before Kim entered Peace House, a North Korean security team conducted a sweep for explosives and listening devices, and sprayed apparent disinfectant in the air, on the chairs, and on the guest book.
The United States is hopeful talks between Kim and Moon will make progress on achieving peace and prosperity, the White House said in a statement as the two men began their summit.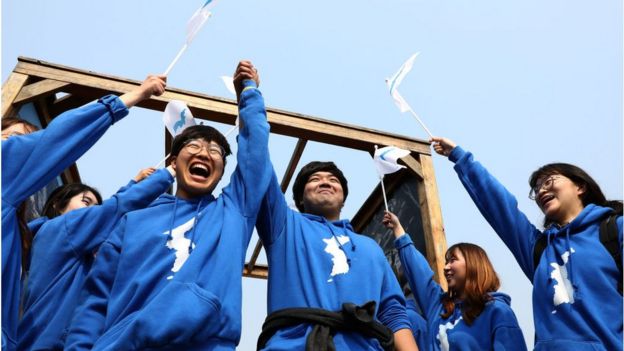 The White House also said it looks forward to continuing discussions with South Korea in preparation for the planned meeting of Trump and Kim in the coming weeks.
Just months ago, Trump and Kim were trading threats and insults as the North made rapid advances in pursuit of nuclear-armed missiles capable of hitting the United States.
Earlier Friday, North Korea's official KCNA news agency said Kim would "open-heartedly discuss with Moon Jae-in all the issues arising in improving inter-Korean relations and achieving peace, prosperity and reunification of the Korean peninsula."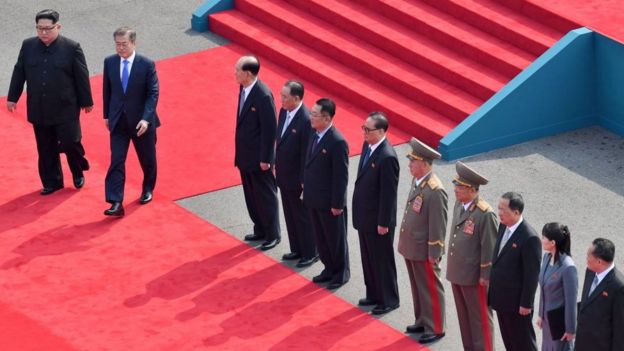 Moon travelled to the meeting in a large motorcade, stopping briefly to greet dozens of summit supporters waving South Korean flags near the presidential Blue House in Seoul.
Hundreds of demonstrators were seen gathering in downtown Seoul from early morning to protest or support the summit.
Article Sourced from Reuters
Photo Credit- BBC.com