Tehran- Aseman Airlines passenger plane came down in the Zagros mountains on Sunday, and all those on board are feared to have been killed.
The flight was heading from Tehran to the south-western city of Yasuj.
The ATR 72-500 twin-engine turboprop, Flight EP3704 left Tehran at 04:30 GMT on Sunday, and crashed about an hour later on Dena Mountain, near the city of Semirom in Isfahan province.
There is a possibility that the crash was caused by the weather, heavy snow and wind forced rescuers to call of their search late on Sunday.
"With the wind intensifying, and with snow, rain and darkness, it is not possible for rescue and relief teams to reach high altitudes and the search operation has been postponed until tomorrow," broadcaster IRIB announced.
"Five helicopters are on alert to resume the search at dawn if the weather conditions are better."
Iranian reported that the crash site is about 22km (14 miles) from Yasuj.
The plane was 25 years old, the Iran's civil aviation organisation said. The plane is French-Italian Made.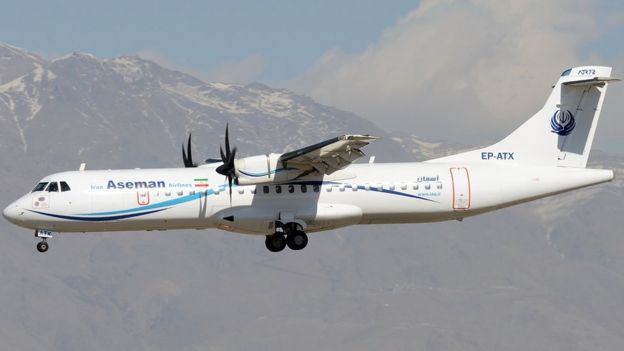 In an initial statement the Aseman Airline said all passengers had been killed, "Given the special circumstances of the region, we still have no access to the spot of the crash and therefore we cannot accurately and definitely confirm the death of all passengers of this plane."
Passengers relatives have now the anxious wait of any news of their relatives,
"I can't bring myself to believe it," said one woman whose husband was on the plane.
Photo Credit- BBC