NAIROBI – Security has been stepped up in the Kenyan capital, Nairobi, ahead of the inauguration of President Uhuru Kenyatta for a second term in office.
People in festive mood have filled a stadium where more than 20 heads of state or senior ministers are attending the ceremony.
Riot police were deployed in another part of the city to stop a rally by opposition supporters.
Opposition leader Raila Odinga has mocked Mr Kenyatta's "coronation".
He boycotted the re-run of the presidential poll last month and says Mr Kenyatta was not elected legitimately.
Mr Kenyatta was officially re-elected with 98% of the vote on 26 October but just under 39% of voters turned out.
The original election on 8 August was held over again after being annulled by the Supreme Court on grounds of irregularities.
Who is in Nairobi?
There were scenes of chaos outside Nairobi's Kasarani sports stadium when people without seats tried to rush in and were driven back by police with tear gas and on horseback.
"I just want to see President Uhuru Kenyatta because I voted for him," Janet Wambua, who was among the angry crowd, told AFP news agency. "Why are we being beaten?"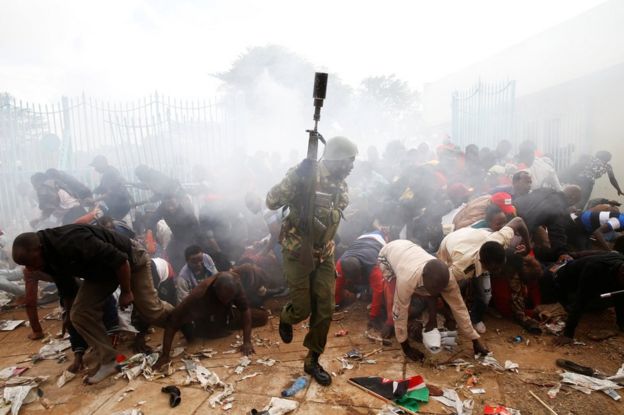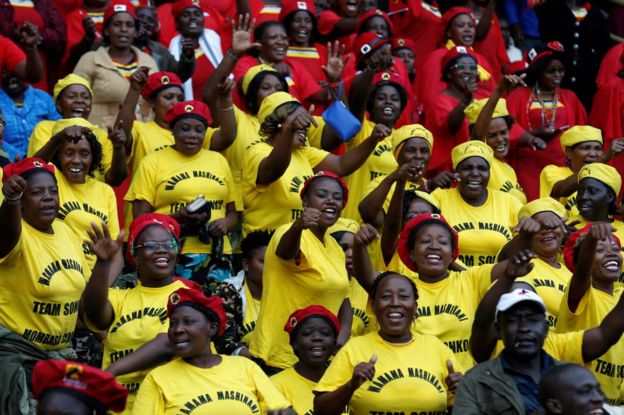 Inside the stadium itself, foreign dignitaries took up their seats in a calm, good-humoured atmosphere.
Spectators were treated to musical performances and a military parade.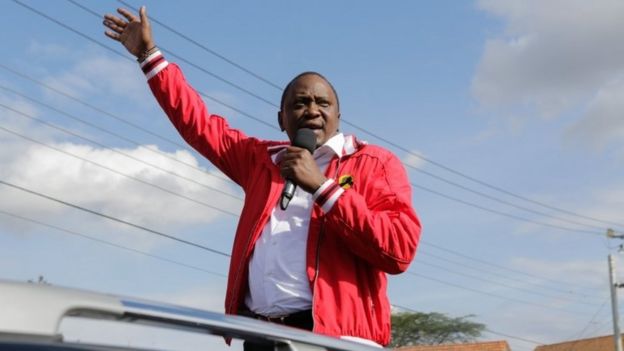 Israeli Prime Minister Benjamin Netanyahu, Ugandan President Yoweri Museveni and Rwandan President Paul Kagame are believed to be among those attending.
Eunice Jerobon, a trader who travelled overnight from the Rift Valley town of Kapsabet for the inauguration, told Reuters news agency of his hopes under the re-elected president.
"I'm sure Uhuru will be able to bring people together and unite them so we can all work for the country."
Why was there an election re-run?
Chief Justice David Maraga said the August election had not been "conducted in accordance with the constitution" and declared it "invalid, null and void".
The Supreme Court ruled that the result had been "neither transparent nor verifiable".
But Mr Odinga urged his supporters to boycott the second vote because he said no reforms had been made to the electoral commission since the original poll.
Correspondents say the election dispute has left Kenya deeply divided.
About 50 people are reported to have been killed in violence since the August ballot.
How are the opposition responding?
Mr Odinga had promised to hold a "memorial rally" in another part of Nairobi to honour those killed during the four months of political upheaval since the August vote.
But when a crowd gathered at the Jacaranda grounds, riot police fired tear gas and beat marchers, the Daily Nation reports.
According to the opposition leader, Mr Kenyatta was elected by "just a small section of the country".
In the opposition stronghold of Kisumu, in the west of the country, local people told BBC News they were not happy with the inauguration.
"I am going to peacefully accept and move on but I won't recognise this presidency," said one man.
"I don't even think I'd ever go to any government office to seek for services because I know it's a government that has come to office by force, it has killed people to be there."
A woman said Mr Kenyatta had not won fairly.
"A large part of the country did not vote – Kisumu being a major part that did not vote – and so we feel that it's not time to move on," she said. "It will not be an easy thing to do."
Source – bbc.com