AUSTRALIA- A US carrier aircraft that sunk during World War II has been found off the coast of Australia.
The US carrier aircraft the USS Lexington, was located about 3km (2 miles) of the Coral Sea,  800km off Australia's east coast.
The ship lost the Battle of the Coral Sea from 4-8 May 1942.
Many crew members died in fighting with the Japanese, about 200 members killed.
The US Navy has confirmed the ship was discovered by a search team led by Vulcan, Microsoft co-founder Paul Allen was the USS Lexington.
The pictures produced by the search team shows that the ship wreck will be well preserved.
We've located the USS Lexington after she sank 76 yrs ago. #RVPetrel found the WWII aircraft carrier & planes more than 3000m (~2mi) below Coral Sea near Australia. We remember her brave crew who helped secure 1st strategic US win in the Pacific Theater https://t.co/20ehjafD7d pic.twitter.com/HIvxNUDbsX

— Paul Allen (@PaulGAllen) March 5, 2018
An exciting announcement regarding USS Lexington (CV-2)!

Though Lexington was lost in the Battle of the Coral Sea, the valiant efforts of her men crippled IJN carriers Shōkaku and Zuikaku so that they were unable to take part at Midway, setting the stage for an Allied victory. https://t.co/KaAPsOtRqO

— U.S. Pacific Command (@PacificCommand) March 5, 2018
Adm Harry Harris who is the head of the Pacific Command was very pleased of the discovery, he said,
"As the son of a survivor of the USS Lexington, I offer my congratulations to Paul Allen and the expedition crew of Research Vessel (R/V) Petrel for locating the 'Lady Lex'."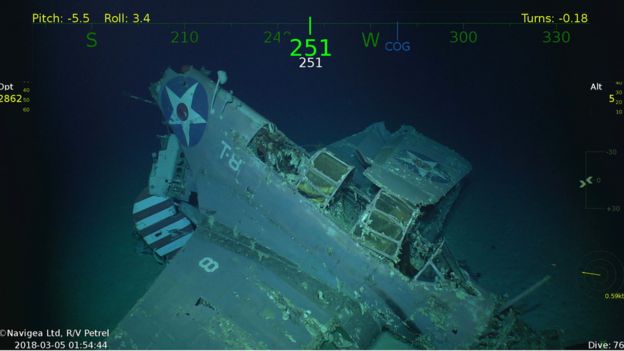 The battle of the Coral Sea is consider a defining moment in stopping Japanese advancement in the Pacific during the war.
US navy said 216 crew members lost their lives, with more than 2000 rescued, as the Japanese army torpedoed and bombed the ship.
Vulcan spokesperson has said the location of the ship had taken six months to plan.
The aircraft will be given to the US navy because they consider it a war grave.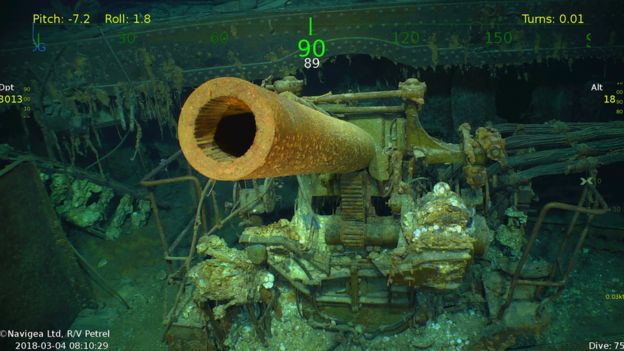 Lexington anti-aircraft guns.
Photo Credits- BBC