Beijing- A skit in Chinese Lunar Year on the biggest New Year TV show has caused outrage and accusations of racism.
The comedy routine celebrating Chinese and African ties, a Asian actress appeared in black face with and over-sized buttocks.
Black face, is using make up to look like black people, and is usually seen as deeply offensive and racist.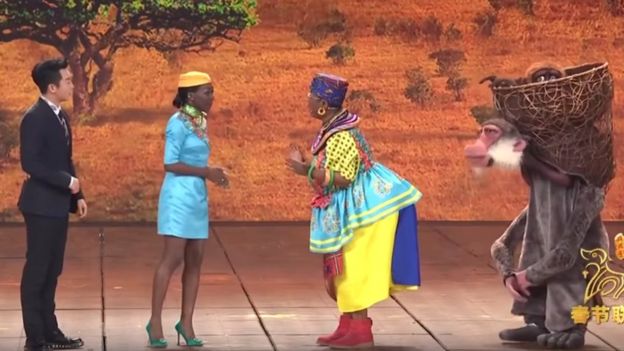 Photo Credit- BBC
An African mother is played by a Chinese lady with over-sized buttocks added on.  The Asian actress is seen on stage carrying a fruit plate on her head and is accompanied by what is thought to be have been a black actor in a monkey suit, carrying a basket on his back.
The state media show is highly viewed and has up to 800 million viewers.
Some observers have defended the skirt, as not having the intention to offend Africans ,however some find it offensive. This is not the first time Chinese entertainment shows have caused controversy with their portrayals of other peoples ethnicities.
CCTV's racist show during Spring Gala shook me and made me so ashamed of China and my people. They literally had blackface on stage, had an African actor to play a monkey and a African actress yelling "I love China!" Racism is global y'all…

— Huizit (@iamHuizit) February 16, 2018
ugh the sketch on Africa during the @CCTV Spring Festival Gala (possibly the most watched show in the world) was cringeworthy at best, completely racist at worst. It's Africa, so bring out tribal dancers & animals? And was that a Chinese woman in blackface with a fake posterior?

— Parthepan (@KTParthepan) February 15, 2018
But the skirt continues with a celebration of African culture, the skirt can be mistaken for clumsiness, nativity or a something deeper?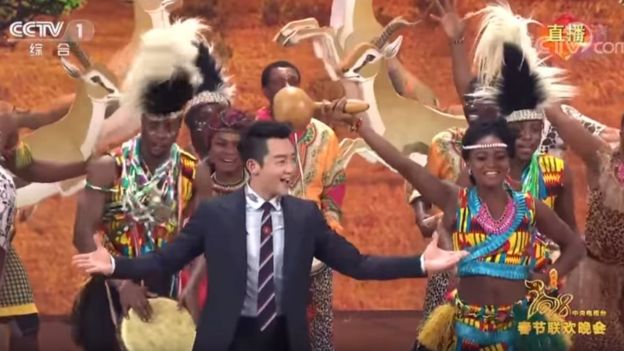 Either way the Chinese government still needs to work on understanding of other cultures and ethicities, particularly the African culture, where they try and strengthen ties.
Photo Credit-   BBC