KATHMANDU- Survivors and witnesses have described the chaotic moments when the aircraft crashed and killed 51 passengers.
The aircraft crashed landed at Kathmandu's Tribhuvan airport.
Witnesses recalled to BBC Nepali that they heard a bang and then the plane shook violently while people cried inside the aircraft and called for help.
One survivor Keshav Pandey told BBC Nepali about the fire and how he got out of the plane, he said,  "After the crash I was trying to [get] out of the plane because it was on fire but I could not, my hand and leg was trapped," .
"I was on the seat by the side of the emergency door, [so] maybe I fell outside when [security came] and they opened the door. After that I don't remember anything, I was unconscious."
Another survivor Sharin Ahmed, a 29-year old teacher from Bangladesh described the moment of the impact to BBC Nepali,
Basanta Bohora told reporters from his hospital bed what he witnessed, "There was a huge fire outside and smoke gushed into our cabin. Then there was [an] explosion. The fire was extinguished and we were rescued outside,"
"All of a sudden the plane shook violently and there was a loud bang,"
He added, "I was seated near a window and was able to break out."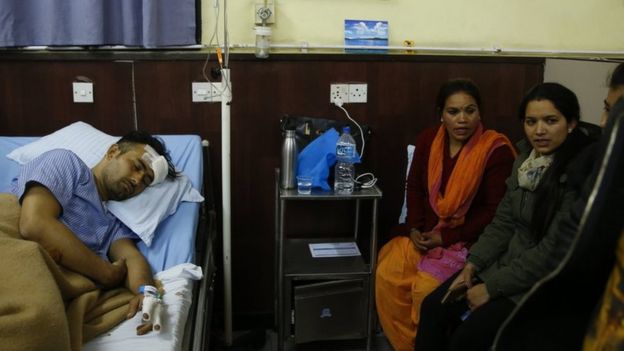 Photo Credit- BBC. Basanta Bohora spoke to reporters from his hospital bed.
Shradha Giri, who was on board in nearby plane with her daughters spoke to the BBC, "There was a lot of chaos out there, lot of security personnel running towards it, a lot of ambulances and fire trucks approaching the site where it had crashed."
"It was traumatising just to be with my little girl out there…everybody was shaken up because just something like that to happen in front of your eyes."
Photo Credit-