SYRIA- Rescuers say 42 people killed and hundreds injured by what medics say was toxic gas attack.
Dozens of people have been killed in what local medics say was a toxic gas attack on the besieged town of Douma near the Syrian capital Damascus.
Rescue workers said the attack led directly to the deaths of at least 42 people, with hundreds of injured showing symptoms they said were consistent with exposure to an organophosphorus compound.
The attack on Saturday evening was the latest in a string of alleged chemical attacks in the besieged enclave of eastern Ghouta, which has in the past been attacked with chlorine as well as a sarin gas attack in 2013. It came as negotiations for the forced exile of tens of thousands of civilians and fighters from the area foundered in recent days.
"The attack was near bomb shelters and so it spread quickly in them," said one paramedic who helped treat the latest group of victims. "The gas was concentrated and in a place where people thought they were safe."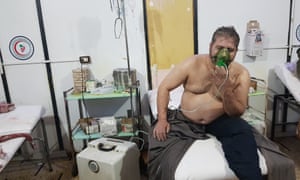 Videos and images from rescue workers showed bodies of dead children and families, some foaming at the mouth, inside homes. Rescue workers said many remained where they had died due to the shelling and the penetrating odour of the toxic gas, as well as the lack of protective gear.
They said victims showed symptoms that included suffocation, central cyanosis, foaming, corneal burns and emitted a chlorine-like odour.
The latest attack came after a brief ceasefire that lasted days and was meant to create the conditions for a deal that would displace civilians and rebel fighters. But local rebels have insisted to Russian interlocutors that they wanted to remain in their city, a prospect that has heightened risks of renewed violence.
Syrian state media denied claims that government forces had launched any chemical attack and said rebels in Douma were in a state of collapse and spreading false news.
Citing a history of chemical weapons use by the government of Bashar al-Assad, state department spokesperson Heather Nauert said the regime and its backer Russia needed to be held accountable and "any further attacks prevented immediately".
"Russia, with its unwavering support for the regime ultimately bears responsibility for these brutal attacks," Nauert said.
The attack came almost exactly a year after the deadly sarin gas attack in the town of Khan Sheikhun, which prompted American Tomahawk missile attacks on a Syrian airbase.
Syrian state news agency Sana said the rebel group Jaish al-Islam was making "chemical attack fabrications in an exposed and failed attempt to obstruct advances by the Syrian Arab army", citing an official source.
Article Sourced from The Guardian
Photo Credit- The Guardian