Chinese tech giant Tencent Holdings has posted a record quarterly profit for the three months to March, sending its shares up more than 5% on Thursday.
The firm, which owns the popular messaging app WeChat, posted a 61% year-on-year jump in profit, to 23.29bn yuan ($3.7bn; £2.73bn).
Tencent's online games, like the hugely popular Honour of Kings, boosted revenues by 26%.
WeChat, which is a bit like WhatsApp, is now China's biggest social network.
It is also an important source of revenue for Tencent – though the firm continues to remain reasonably vague on those details in its earnings reports.
Where does the money come from?
Analysts have said that most of Tencent's revenue growth comes from the gaming apps it owns and the purchases that users make within those games.
WeChat is integral to that revenue as Tencent uses the platform as a way of getting those games out to users.
Together with its Chinese-only version Weixin, WeChat hit one billion monthly users for the first time earlier this year, which helped advertising revenue grow 55% to 10.69 billion yuan in the first quarter.
By comparison, Facebook's messaging service WhatsApp has about 1.5 billion monthly users.
In addition to being a messaging service, and a window to online games, WeChat now allows users to book a taxi, order food or pay for goods online. Merchants then pay Tencent a fee for service.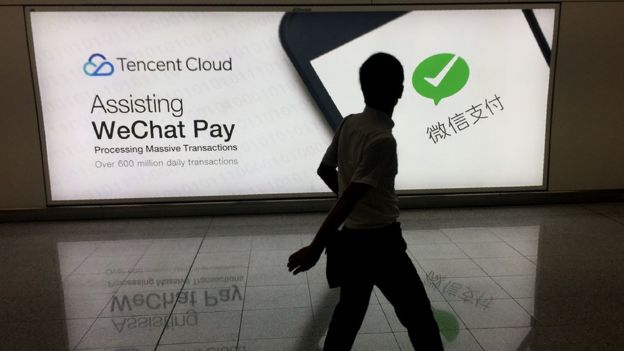 WeChat is also where players of games like the hugely popular Honour of Kings compare gaming scores with their friends – creating another layer of social networking within the platform.
Tencent said that its newly launched mini games platform within WeChat had achieved "significant success".
"We opened up the platform to third-party game developers in late March and over 500 Mini Games are now available," the company said in a statement.
The tech giant also said on Wednesday that a new payment system was being picked up quickly by supermarkets.
"For merchants, we introduced a scan-to-buy solution, as one of our smart retail initiatives [which allows] customers to skip the check-out queue, boosting transaction efficiency during peak hours."
Revenue from other businesses within Tencent, including its cloud services, grew by 111% year-on-year in the period.
"The growth in our payment solution business was mainly contributed by the rapidly increasing offline commercial transaction volumes and consumer cash withdrawal fees," the firm said.
Tencent was founded in Shenzhen, China, in 1998. Its shares are listed in Hong Kong.
 Photo Credit- Reuters