LONDON- Celebrities turned out to the annual award British ceremony wearing all black, the Baftas are consider the British Oscars and at this years event the star come out to make a social statement again.
In a open letter signed by 190 actors had called on women in the film industry to wear black and to "use our power as communicators and connectors to shift the way society sees and treats us. We need to examine the kind of womanhood our industry promotes and sells to the world." The Hollywood industry has been rocked by sexual assault cases and allegations since late last year.
The dress code was followed by all attendees but noticeable the Duchess of Cambridge Kate Middleton pitched up in a dark olive gown.
Black is best for the @BAFTA red carpet's new era of empowerment #BAFTAs2018: https://t.co/a1ehZaJW3T pic.twitter.com/7hxCqeaiud

— British Vogue (@BritishVogue) February 18, 2018
Prince William and Catherine, Duchess of Cambridge attend the BAFTAs at the Royal Albert Hall. #KateMiddleton #BAFTA2018 #BAFTAs2018 #Royals #PrinceWilliam pic.twitter.com/yx0OcFqkJe

— Mark Cuthbert (@markacuthbert) February 18, 2018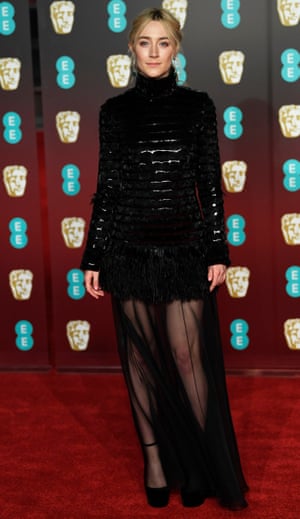 Photo Credit- The Guardian Saoirse Ronan on the red carpet.
BAFTAs 2018 fashion fails… Anais Gallagher, Natalie Dormer and Emma … https://t.co/zDFDxw9sBN #joy @134co #Lulu pic.twitter.com/1re1TRWDL1

— Partner 134 (@134co) February 19, 2018
h
Lupita Nyongo is stunning on the BAFTAs red carpet! Wow, wow, wow 👏🏾😍 #BAFTA pic.twitter.com/3p8xtHasf4

— Fashion by iaam (@Fashionbyiaam) February 18, 2018
From left, Salema Hayek, Jennifer Lawrence, Margret Robbie and Angelia Jolie (Photo Credit-Daily Express)
From Left, Natalie Portman, Jessica Chastain, Octiva Spencer and America Ferrera (Photo Credit-Complex)
Photo Credit- The Guardian