LONDON- Tributes poured in from around the world when news broke that legendary physicist had passed away at the age of 76.
The physicists who was diagnosed with a rare form of motor neurone disease aged 22 doctors only gave him a year to live.
He is known for his work on black holes and relativity.
Astronomer Royal Lord Rees, one of the world's most well known scientists, described his life as a "triumph".
Benedict Cumberbatch who played Professor Hawking in a 2004 BBC TV film about his life at Cambridge, said he felt "so lucky" to have known "such a truly great man",
He added, "I will miss our margaritas but will raise one to the stars to celebrate your life".
"He virtually created the publishing genre of popular science," Cumberbatch said.
He praised his "wickedly funny sense of humour" and said: "You were and are a true inspiration for me and for millions around the world."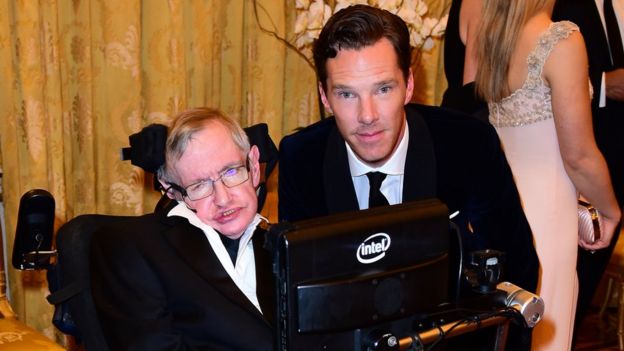 Photo Credit-Getty Images and BBC
The family statement:
"His courage and persistence with his brilliance and humour inspired people across the world.
"He once said, 'It would not be much of a universe if it wasn't home to the people you love'. We will miss him forever."
Nasa said Prof Hawking's theories "unlocked a universe of possibilities",
"May you keep flying like superman in microgravity, as you said to astronauts on [the International Space Station] in 2014."
I asked him once "How have you lived so long?" And he said "How can I die, when I have so much of the Universe left to explore?"

— Dara Ó Briain (@daraobriain) March 14, 2018
"Professor Stephen Hawking was a brilliant and extraordinary mind – one of the great scientists of his generation. His courage, humour and determination to get the most from life was an inspiration. His legacy will not be forgotten." — PM

— UK Prime Minister (@10DowningStreet) March 14, 2018
In loving memory of Stephen Hawking. It was an honor to have him on The #BigBangTheory. Thank you for inspiring us and the world. pic.twitter.com/9rWoYqIToy

— The Big Bang Theory (@bigbangtheory) March 14, 2018
"Space, here I come" – remembering world renowned physicist Stephen Hawking, who showed us there are no limits to achieving our dreams. Our thoughts are with his family. pic.twitter.com/52hpw0Tfwf

— ESA (@esa) March 14, 2018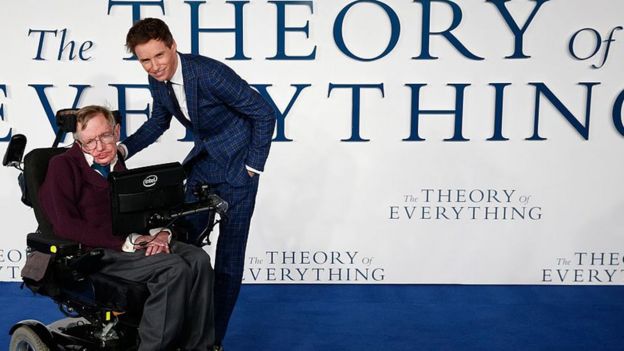 Actor Eddie Redmany won an Oscar for portraying the physicist in the 2016 movie the Theory of Everything.
American astrophysicist Neil deGrasse Tyson tweeted; "His passing has left an intellectual vacuum in his wake.
"But it's not empty. Think of it as a kind of vacuum energy permeating the fabric of spacetime that defies measure."
Photo Credit- BBC