President Donald Trump says he and Nigerian President Muhammadu Buhari did not discuss his reported use of a vulgarity in describing African countries earlier this year.
Answering a reporter's question Monday, Trump said he and Buhari did not talk about reports that he used a term for a filthy toilet when telling US lawmakers that he wanted less immigration from certain countries in Africa and more from places like Norway.
Trump said on Monday that there are "some countries that are in very bad shape and very tough places to live in".
Buhari deflected, saying he was unsure about "whether that allegation against the president was true or not".
 Trump added that he and Buhari didn't discuss it "because the president knows me and he knows where I'm coming from".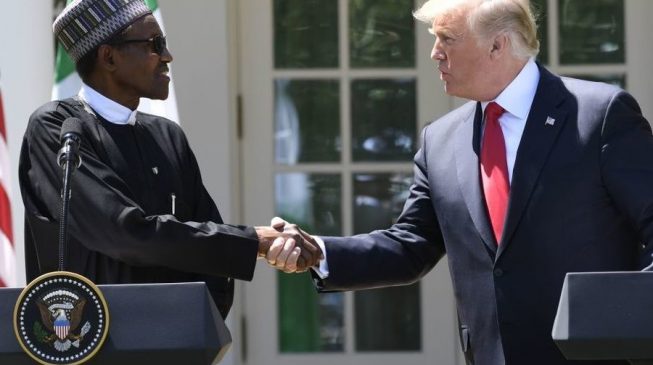 President Donald Trump is urged Nigeria to take down trade barriers to allow additional US investment in the African nation.
Trump discussed trade ties at the start of a joint news conference with Nigerian President Muhammadu Buhari.
Trump notes that the US provides Nigeria with more than $1 billion a year in foreign aid and wants Nigeria to take down trade barriers in return.
Trump said, "We think that we are owed that".
He says the US will invest in Nigeria if they can make a more "level playing field" on trade.
Trump mentioned the "terrible problem" Nigeria is experiencing with terrorist group Boko Haram, including mentioning the anti-Christian sentiment in Nigeria.
Buhari thanked the US or its commitment to fighting terrorism and says US action has helped his country a lot.
Article sourced from AFP
Photo Credit- www.voanews.com