MAIDUGURI- The Nigerian government has confirmed only 104 out of 110 girls have been released by Boko Haram after the terrorist group abducted the girls about a month ago.
One of the released girls a 14 year old told reporters that about five girls had died. She did not give details behind their deaths and her claims have not been verified.
She continued to say that she and others were taken into the bush, to an "enclosed place", she said they had to cook their own food to fed themselves.
Another classmate said her Christian classmate remained captive.
The government did not correlate the girl's story of the five deaths and also did not explain the discrepancy between the 110 abducted and the 101 returned.
Nigerian Information minister denied the government paid any ransom money to the terror group or a prisoner swap, the minister made it clear on Wednesday that the parents and residents, "Don't ever put your daughters in school again."
Kundili Bukar a parent said to the BBC the militants had driven into the town in a motorcade in the early hours of Wednesday morning and surrendered the girls to the community.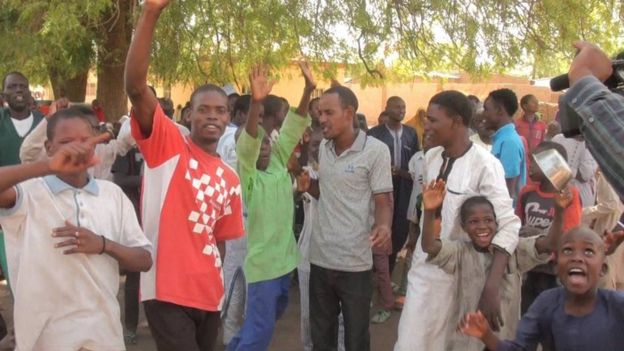 Photo Credit- BBC.com- Jubilation after the girls were returned in the town Dapchi.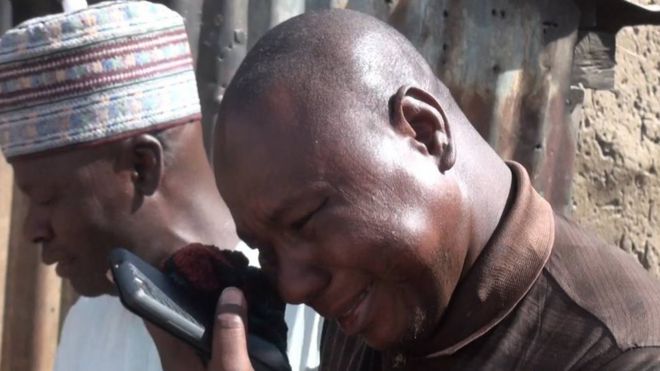 Photo Credit- BBC.com a parent cries after his daughter returns, missing since February 19, she arrived back in Dapchi.