MOSCOW- President Vladimir Putin has won the Russian presidential election with 73.9 percent of the vote, securing a fourth Kremlin term, according to an exit poll by state-owned pollster VTsIOM.
In a statement by pollster VTsIOM the exit poll from 1200 polling stations around Russia gave second place to Communist candidate Pavel Grudinin with 11.2 percent.
Over 37 percent of those polled didn't want to say who they voted for.
The main opposition leader, Alexei Navalis, was prohibited to run against Putin after his frequent arrest for illegal protests and marches.
In the last election in 2012, where Putin won by a margin of 64%, this victory is at a larger scale and is marked by a increase of 10%.
The exit poll put the voter turnout at 63.7% down from 2012 turnout.
Reaction to the victory, a spokesperson told Russia's Interfax, "The percentage that we have just seen speaks for itself. It's a mandate which Putin needs for future decisions, and he has a lot of them to make."
Allegationshave surfaced of voter irregularities as video recordings have surfaced showing  a number of towns and cities across Russia of election officials stuffing boxes with ballot papers, these reports have not been authenticated.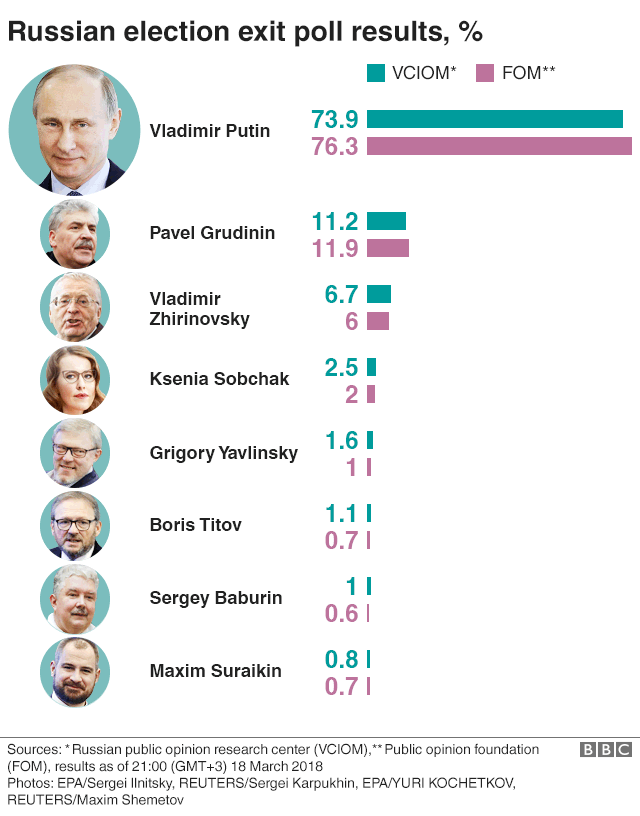 Image Credit- BBC.com and Geo.tv