Zimbabwe's President Robert Mugabe has made his first public appearance since the country's army took over on Wednesday.
He attended a graduation ceremony in the capital, Harare.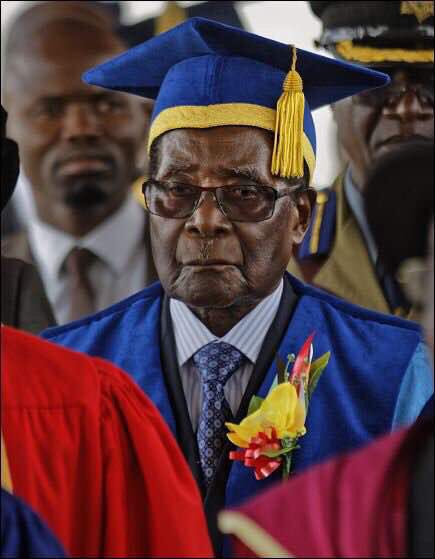 Mr Mugabe had been under house arrest for days. The army made its move after a power struggle over his successor.
The military said on Friday it was "engaging" with Mr Mugabe and would advise the public on the outcome of talks "as soon as possible".
Mr Mugabe was cheered by the crowd at the graduation ceremony after he spoke, a witness quoted by Reuters news agency says.
He joined the crowd in singing the national anthem and walking slowly up a red carpet.
Neither his wife, Grace Mugabe, nor Education Minister Jonathan Moyo – an ally of hers whose house was reportedly raided by the military – were present.
The 93-year-old president's attendance at the graduation is an annual tradition but few expected to see him there after he was put under house arrest, the BBC's Andrew Harding reports from Zimbabwe.
The army took control after Mr Mugabe last week sacked Vice-President Emmerson Mnangagwa, signalling that he favoured Grace Mugabe to take over his Zanu-PF party and the presidency.
---
Further confusion
Analysis by Mary Harper, BBC World Service Africa editor
Mr Mugabe's appearance at the graduation ceremony made it look like business as usual but it's not. This has simply added to the confusion about his future.
The military has essentially been in control for three days and, with the help of South African envoys, has been in talks with Mr Mugabe.
This cunning and experienced leader has resisted the push to go immediately but he is facing unprecedented pressure to step down after nearly four decades in power.